Franklin's Gull
The Franklin's Gull is a small gull. It breeds in central provinces of Canada and adjacent states of the northern USA. It is migratory, wintering in the Caribbean, Peru, Chile, and Argentina.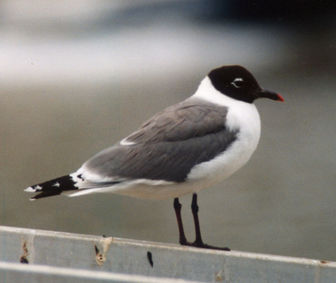 Picture of the Franklin's Gull has been licensed under a Creative Commons
Attribution-Share Alike
.
Original source
: Own work
Author
: Aviceda
The Franklin's Gull is classified as Least Concern. Does not qualify for a more at risk category. Widespread and abundant taxa are included in this category.

Franklin's Gull, or Prairie Dove, a gull that spends the summer on the Great Plains from southern Canada to central United States. The bird does much good in this region by eating grasshoppers and other crop-damaging insects. It also eats frogs, fish, and mollusks. It is named for the English explorer Sir John Franklin. Colonies of Franklin's gulls nest in marshes. The female lays two to four pale-brown eggs. More
The Franklin's Gull is a common nesting gull of the northern Great Plains, nesting in extensive prairie marshes. Since the condition of these marshes is variable from year to year, it is not unusual for entire colonies to shift location annually. In winter, Franklin's Gulls leave North America for more southern coastal regions, concentrating in protected bays and estuaries. Winter habitat also includes agricultural fields, inland lakes, and offshore waters. More
Franklin's GullLarus pipixcan Order CHARADRIIFORMES – Family LARIDAE Issue No. 116 – Revised: March 9, 2009 Authors: Burger, Joanna, and Michael Gochfeld Revisors: Burger, Joanna, and Michael Gochfeld * Articles * Multimedia * References Courtesy Preview This Introductory article that you are viewing is a courtesy preview of the full life history account of this species. More
The Franklin's Gull (Leucophaeus pipixcan) is a small gull. It breeds in central provinces of Canada and adjacent states of the northern USA. It is migratory, wintering in the Caribbean, Peru, Chile, and Argentina. This species is easy to identify. The summer adult's body is white and its back and wings are much darker grey than all other gulls of similar size except the larger Laughing Gull. The wings have black tips with an adjacent white band. The bill and legs are red. More
Franklin's gulls have in recent decades expanded their breeding range southward to include a few lakes in the Great Basin and Rocky Mountain regions. They often nest in large colonies which are susceptible to human disturbance and local reductions in water levels caused by drought and drainage projects. Because of these pressures, colonies may abandon traditional nesting grounds in favor of other sites or possibly not nest at all. Gray-backed, black-headed gull flying over water. More
Franklin's Gull - Larus pipixcan - Bonaparte's Gull - Larus philadelphia - Height: 14-15 inches Height: 13-14 inches (noticeably smaller than Franklin's or Laughing Gull) Wingspan: 36 inches Wingspan: 33 inches Bill: Deep reddish in breeding plumage, black in other seasons Bill: Thin dark bill. More
Franklin's Gull: Breeds on marshes, sloughs, and wetlands around lakes from southern Canada to South Dakota and Iowa; also in scattered marshes in the west. Migrates to southeast and winters mainly along west coast of South America. Listen to Call Voice Text "cuk-cuk-cuk" Interesting Facts * The Franklin's Gull is unique among gulls in having two complete molts each year rather than one. More
A small, black-headed gull of the prairies, the Franklin's Gull is a common sight in the interior of North America, following plows to eat exposed worms, insects, and mice. More
Franklin's GullLeucophaeus pipixcan = REPORT SIGHTING ADD TO LIFE LIST ADD TO TARGET SPECIES LIST REMOVE FROM WATCH LISTbreeding adult© Vireo click to enlarge Listen FAMILY Gulls and Terns Family Description DESCRIPTION 13-15" (33-38 cm). A slender gull with a black hood in breeding plumage, similar to Laughing Gull, but smaller, paler. More
Franklin's Gull Galveston Galveston Bay green Houston Ike Dike John Anderson Kris Benson land use patterns migration National Audubon Society nature deficit disorder non-point pollution open space oyster reefs oysters recovery Rice University San Luis Pass sea level rise Sierra Club state of the birds texas bird conservation Thomas Friedman US Department of the Interior West Nile Virus White-winged Dove winter range Conservation (28) Opinion (4) Politics (18) Press (1) Publications (1) More
Bent Life History for the Franklin's Gull - the common name and sub-species reflect the nomenclature in use at the time the description was written. now Larus pipixcan FRANKLIN'S GULL LARUS FRANKLINI (Richardson) HABITS Spring: In late April or early May, when the rich black soil has thawed to the surface, the settler of the northwest prairies goes forth to plow. More
Franklin's Gulls are a hallmark species of the windswept prairie provinces and states. They are birds of great beauty, particularly in the breeding season, when they sport sharp black hoods, white eye-arcs, bright red bills, and immaculate underparts, which show a subtle rose-pink tint in the early weeks of spring. Most Franklin's Gulls breed in noisy colonies in marshes in the Canadian prairie provinces and the north-central United States, including Minnesota, the Dakotas, Montana, Idaho, southeastern Oregon, and Nevada. More