Western Gull
The Western Gull is a large gull, around 60 cm long with a white head and body, and gray wings. It has a yellow bill with a red subterminal spot . It closely resembles the Slaty-backed Gull . In the north of its range it forms a hybrid zone with its close relative the Glaucous-winged Gull .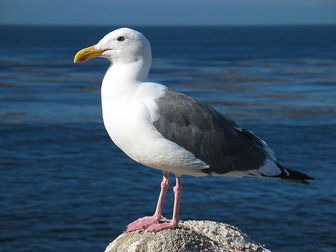 Picture of the Western Gull has been licensed under a
GFDL
Original source
: Western Gull (Larus occidentalis). Image taken in Monterey, CA, USA by User:Dschwen.
Permission
: GNU Free Documentation License
The Western Gull is classified as Least Concern. Does not qualify for a more at risk category. Widespread and abundant taxa are included in this category.

The Western Gull, Larus occidentalis, is a large white-headed gull that lives on the western coast of North America. It was previously considered conspecific with the Yellow-footed Gull (Larus livens) of the Gulf of California. The Western Gull ranges from Washington and British Columbia to Baja California, and because of its convenient colonies on the coast of California it is well studied. More
The Western Gull is a large gull which resides mainly on the west coast of North America. Its range extends from Washington and British Columbia to Baja California. This bird is rarely seen inland, and nests on offshore islands and rock coasts. Small colonies also are found on Alcatraz Island in San Francisco Bay. Nests are built on the ground or in crevices between rocks, and the usual lifespan is 15 year. More
because the northern race of Western Gull is not depicted in many field guides, mistakes are made. Many new gull watchers and visitors from out of state, familiar with the darker southern race of Western Gull or the Lesser Black-backed Gull, identify our pale Western Gulls as Herring Gulls. This is especially a problem on Christmas Bird Counts where beginners are asked to identify every bird they see. More
The adult Western Gull is the only common large gull along the Pacific coast with a white head year round, pink feet, and dark gray upper wings and back. The wing tips are black with only a few white flecks. The under-parts and tail are white. A red spot marks the lower bill just before the tip. Young Western Gulls require four years to mature and present a variety of plumages that require dedicated study in order to master. More
A large, dark-backed gull of the Pacific Coast, the Western Gull is seldom found far from the ocean. More
The Western Gull is an exclusively marine gull that is seldom encountered inland. It nests on offshore islands and rocks along the coast, and on islands inside estuaries, and a colony also exists on Alcatraz Island in San Francisco Bay. In the colonies, long term pairs aggressively defend territories whose borders may shift slightly from year to year, but are maintained for the life of the male. The Western Gull typically lives 15 years, but can live to at least 25 years. More
North American RangeThe adult Western Gull has a deep gray back and wings, with black wing-tips that blend into the rest of the wing, unlike many species where the black is clearly defined. The underwing is white with a narrow band of gray. The head is mostly white, with a limited amount of brown streaking, especially in non-breeding plumage. The large bill is yellow with a red spot, and the eye is dark yellow. More
The adult Western Gull is considered a large bird with a white head and chest, with a dark gray back. It has yellow eyes and beak, with pink legs and feet. It makes a loud shrieking cawing sound. With an average wingspan of almost four feet, the male and female of the species are similar in size and weight. More
Western Gull with chick on Alcatraz Island. Photo: Russ Curtis/IBRRC Common name: Western Gull Latin name: Larus occidentalis Family: Laridae Length: 25" Wing span: 58" Weight: 2. More
The Western Gull is a large gull, around 60 cm long with a white head and body, and gray wings. It has a yellow bill with a red subterminal spot (this is the small spot near the end of the bill that chicks peck in order to stimulate feeding). It closely resembles the Slaty-backed Gull (Larus schistisagus). In the north of its range it forms a hybrid zone with its close relative the Glaucous-winged Gull (Larus glaucescens). More
Western Gull Photos and Species Information for Mexico See current, on-the-spot sportfishing reports and photographs of fish caught at Mexico's top vacation spots in this week's edition of "Mexico Fishing News" and see hundreds of other fish pictures and species information by clicking here for our main Fish Photo List. More
western gull dresses in spectacular white plumage with a dark slate-gray mantle. It catches fish by diving or wading. Often seen following fishing boats, this gull commonly feeds on scraps thrown overboard by fish cleaners. Conservation - The western gull has a small population, with limited distribution along the west coast of North America. Even though gulls prey on other birds, they don't deserve their reputation of being a nuisance or an undesirable pest. More
Species: Western gull, Larus occidentalis Location: La Jolla, California, USA Western gull, early morning pink sky. Image ID: 18394 Species: Western gull, Larus occidentalis Location: La Jolla, California, USA Western gull, flying. More
All adults Western Gulls have white head with flat forehead, dark grey back, pink legs and very large yellow bill with red spot. Eyes are dark yellow. Northern birds have paler backs and darker eyes than southern birds. Dark grey wings have black tips. Underwing is white, but we can see a narrow grey band. Head and underparts are white. Tail is white. Western Gull adult is four years old. Both sexes are similar, male larger than female. More
schizochroic Western Gull, 1st cycle (#1 of 2) schizochroic Western Gull, 1st cycle (#1 of 2) schizochroic Western Gull, 1st cycle (#2 of 2) schizochroic Western Gull, 1st cycle (#2 of 2) Western Gull, 1st cycle Western Gull, 1st cycle Western Gull with presumed Glaucous-winged x Western Gull, both 1st cycle Western Gull with presumed Glaucous-winged x Western Gull, both 1st cycle Western Gull, 1st cycle Western Gull, 1st cycle More
The Western Gull is recognized as one of the antagonists in Alfred Hitchcock's movie "The Birds." Its large white head and gray wings identify the Western Gull. It has a red spot on its yellow bill that is used by chicks to peck at to stimulate feeding. Exclusively a marine gull, the western gull is seldom inland and nests on offshore islands and rocks. More
Information :) There Are HUNDREDS Of Western Gulls On This Island Information :) There Are HUND... * What kind of gull was in What kind of gull was in "The ... More
Western Gull - Definition = Western Gull Western_Gull.jpg L. More