Mediterranean Gull
The Mediterranean Gull, Ichthyaetus melanocephalus, is a small gull which breeds almost entirely in Europe, mainly in the south east, especially around the Black Sea, and in central Turkey. There are colonies elsewhere in southern Europe, and this species has undergone a dramatic range expansion in recent decades. Birders often abbreviate its name to Med Gull. As is the case with many gulls, it has traditionally been placed in the genus Larus.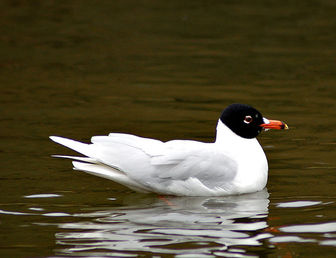 Picture of the Mediterranean Gull has been licensed under a
GFDL
Original source
: Own work
Author
: Martin Olsson (mnemo on en/sv wikipedia and commons, martin@minimum.se).Permission(Reusing this file)This image is published on Wikipedia Commons by Martin Olsson under the Creative Commons Attribution ShareAlike license versions 2.5, 2.0, 1.0 and also the GNU Free Documentation License (GFDL). For redistribution in non-Wikipedia contexts put my name as a byline in the image caption (i.e. Photo: Martin Olsson), for use within the Wikipedia project such a caption is appreciated but not necessary.
Permission
: GNU Free Documentation License
The Mediterranean Gull is classified as Least Concern. Does not qualify for a more at risk category. Widespread and abundant taxa are included in this category.

any Mediterranean Gulls Larus melanocephalus in amongst the Black-headed Gulls. Our great friend Jochen - whom we've seen virtually nothing of in the last few months - popped up within seconds and (correctly) found three - a 1st winter, a 2nd winter, and a winter/non-breeding adult (pretty neat photo eh?). More
Mediterranean Gull in Britain was in 1968, at Needs Ore Point (Hampshire), followed by a pair at Dungeness (Kent) in 1979, increasing to two pairs by 1985. Another site in north Kent was colonised in 1983, while scattered (and futile of course) breeding attempts with Black-headed Gulls L. ridibundus were noted along the UK's south coast. The first breeding attempt in Ireland was in Antrim in 1995, followed by a pair nesting in Wexford in 1996. (Info adapted from http://www.jncc.gov.uk). More
The Mediterranean Gull, Ichthyaetus melanocephalus, is a small gull which breeds almost entirely in Europe, mainly in the south east, especially around the Black Sea, and in central Turkey. There are colonies elsewhere in southern Europe, and this species has undergone a dramatic range expansion in recent decades. Birders often abbreviate its name to "Med Gull". As is the case with many gulls, it has traditionally been placed in the genus Larus. More
Mediterranean Gull in Walton Simon Glinn wrote 9 months ago: Mediterranean Gull (adults) (Larus melanocephalus), originally uploaded by jason stannage. More
Where to watch Mediterranean Gulls in Europe ? France : Camargue - l'Estuaire de la Seine et la côte autour d'Antifer - Dunkerque (in French) - Dunkerque - Lac Hossegor (in French) - île de Noirmoutier en Vendée - Italy : Central- and North Adriatic coast - Lake Varano United Kingdom : Great Yarmouth - Durham - Blackpill, Swansea, Wales Ireland : Dunlaoighre, County Dublin Spain : Llobregat Delta - Asturias/Asturies (north of Spain) - Galiza More
The Mediterranean Gull's feeding habits are much as Black-headed, this species being another opportunistic omnivore, and Mediterranean Gulls are frequently aggressive to their smaller relative, This bird takes two years to reach maturity. First year birds have a black terminal tail band and more black areas in the upperwings, but have pale underwings. This is a noisy species, especially at colonies, with a nasal "yeah" call. More
Mediterranean Gulls have three age groups and attain adult plumage after two years when they moult into adult winter plumage. Juveniles have dark, strongly marked upperparts, tail band and dark legs. First year birds retain the dark heavily marked upperwings and tail band, but have a very pale mantle as adults birds do. Second year birds more closely resemble adult birds but show some dark markings in the outer wing feathers. Call: A characteristic rising then falling call. More
Aspects of the topic Mediterranean gull are discussed in the following places at Britannica. Assorted References * birds of Ukraine (in Ukraine: Plant and animal life) ...Sea Nature Reserve shelters many species of waterfowl and is the only Ukrainian breeding ground of the Mediterranean gull (Larus melanocephalus). Also located on the Black Sea, the Danube Water Meadows Reserve protects the Danube River's tidewater biota. More
'Status of Mediterranean Gull in the West Midlands Region' An analysis of the status of Mediterranean Gull in the West Midlands Region up to 1988 was published in the West Midland Bird Report for 1989 (Dean 1989). At that time there were only 46 records of the species. Even so, there was evidence of increasing numbers, with around a dozen in both 1987 and 1988 compared with only 2 or 3 per year during earlier years of that decade. More
Mediterranean Gulls used to breed in a restricted area in the countries north of the Mediterranean, the Black Sea and east to Dagestan. When Karel Voous wrote his Atlas of European Birds (1965) the distribution of this species was so limited that he suggested that it might be heading for extinction. Since the late 1980's this species has spread north and the world population has increased spectacularly. It now breeds regularly in Belgium, the Netherlands, England, Ireland, Hungary and Poland. More
The Mediterranean Gulls on the other hand feed exclusively inland on intensely manured fields during their stay in Holland thus benefiting from industrial pig-farming. More
The RSPBMediterranean gull sitting on water RSPB Minsmere reserve, view of East HideWinter-plumaged Mediterranean gull in flight * A * B * C * D * E * F * G * H * I * J * K * L More
Mediterranean Gull at Oldbury Power Station. January 2010. © Matt Plenty. Mediterranean Gull bird days in S. More
Excellent capture of a Mediterranean Gull in a lovely pose from nice POV with perfect lit, nice details and fine composition. More