Great Black-backed Gull
The Great Black-backed Gull was one of the many species originally described by Linnaeus in his 18th-century work, Systema Naturae, and it still bears its original name of Larus marinus.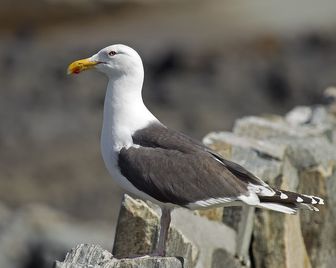 Picture of the Great Black-backed Gull has been licensed under a Creative Commons
Attribution-Share Alike
.
Original source
: Own work
Author
: Andreas TreptePermission(Reusing this file)This photo was taken by Andreas Trepte.Please credit this photo Andreas Trepte, www.photo-natur.de.
The Great Black-backed Gull is classified as Least Concern. Does not qualify for a more at risk category. Widespread and abundant taxa are included in this category.

Great black-backed gulledit this page = Birds Wiki, the online field guide that you can edit While the gull takes a drink, it shows off its different colorations. The great black-backed gull, or Larus marinus, are Britain's largest gulls, and that have black backs, hence their name. More
Distribution of the Great Black-backed Gull in North America. "Its resemblance to the bald eagle was striking, as it soared aloft and wheeled in great circles, showing its broad black back and wings in sharp contrast with its snow-white head and tail, glistening in the sunlight. It surely seemed to be a king among the gulls, a merciless tyrant over its fellows, the largest and strongest of its tribe. No weaker gull dared to intrude upon its feudal domain. More
The Great Black-backed Gull (Larus marinus) is a very large gull which breeds on the European and North American coasts and islands of the North Atlantic. It is fairly sedentary, but some Great Black-backed Gulls move farther south or inland to large lakes or reservoirs. The Great Black-backed Gull was one of the many species originally described by Linnaeus in his 18th-century work, Systema Naturae, and it still bears its original name of Larus marinus. More
The Great Black-backed Gull is a very large species which prefers breeding grounds on coasts and islands of the North Atlantic, including Europe and North America. Most of these birds will reside in their habitat all year long, but some will migrate south or inland to large bodies of water. Nests are built on the ground, and usually atop rocky soil. This species is carnivorous, and hunts almost any prey smaller than itself. More
The Great Black-backed Gull is the largest gull found in Britain and, as well as being well-built, it has a powerful bill. The head and body are white while the wings and back are black. The wings are edged with white. The bill is yellow with a red spot, like the Lesser Black-backed Gull and Herring Gull. The eye is yellow with a red orbital ring. The legs and feet are pink; these facts together with the size of the bird are distinguishing features. More
The Great Black-backed Gull is the largest of Lake Champlain's gull species. Its conspicuous size and distinct black-back makes this species easily identified. It was first documented as a breeding species on Lake Champlain on the Four Brothers Islands in 1982 and nested for the first time in Vermont on Young Island in 1983. Since then its numbers have grown slightly with a couple of dozen pairs nesting on the lake. More
The largest gull in the world, the Great Black-backed Gull is primarily a coastal species. A bird of the North Atlantic, it has been expanding its breeding and wintering ranges farther south along the East Coast and into the Great Lakes. More
Great Black-backed Gulls are opportunistic and get most of their food from scavenging (refuse at times comprising more than half of their diet) and capturing fish. However, unlike most Larus gulls, they are highly predatory and frequently hunt and kill any prey smaller than themselves, behaving more like a raptor than a typical larid gull. They frequently rob other seabirds of their catch and have been known to follow feeding Humpback Whales, Porbeagles and Northern Bluefin Tuna to catch fish driven to the surface by the larger animals. More
a wild Great Black-backed Gull is 27.1 years. Description This is the largest gull, much bigger than a Herring Gull and is often described as the King of Gulls. It is 71–79 cm (28–31 in) long with a 1.5–1.7 m (5-5.7 ft) wingspan and a body weight of 1.3–2 kg (2.9-4.4 lb), though large males regularly exceed this weight. It is bulky, and has a powerful bill. More
Bent Life History for the Great Black-backed Gull - the common name and sub-species reflect the nomenclature in use at the time the description was written. GREAT BLACK-BACKED GULL LABUS MARINUS (Linnaeus) HABITS While cruising along the bleak and barren coasts of southern Labrador I learned to know and admire this magnificent gull, as we saw it sailing on its powerful wings high above the desolate crags and rocky islets of that forbidding shore, its chosen summer home. More
The Great Black-backed Gull is a very large gull with dark gray upperparts and a white head and underparts. The bill is yellow with a red spot near the tip. In flight, the primaries are extensively black with a large white spot. The legs are pink. Great black-backed Gull Female - The sexes are similar. More
Great Black-backed Gull is the largest gull in the world, and it is rather a coastal species. Adult in breeding plumage has black back and wings. It has large white spots at tip of outer black primaries. The massive bill is yellow with red spot on lower mandible. Eyes are yellow with red eye-ring. Legs and feet are flesh-coloured. Adult in winter plumage has almost similar plumage, except on head and neck which are slightly streaked with greyish-brown. More
The Great Black-Backed Gull is a "four-year gull," in that it takes four years to reach adult plumage. The Great Black-Back Gull preys on almost anything smaller than itself, including other gulls, small ducks, small birds, fish and shellfish, as well as the eggs and young of other gulls. Unlike most Larus gulls, Great Black-Backed Gulls are mostly carnivorous and frequently hunt and kill any prey smaller than themselves, behaving more like hawks and eagles than a typical larid gull. More
The Great Black-backed Gull is found around the coasts of western and northern Europe, Iceland and on the east coast of North America as far south as North Carolina. It usually breeds on the coast or small islands but can be found inland where there is little human disturbance. www.ecosystema.ru More