White-eyed Gull
The White-eyed Gull is a small gull which is endemic to the Red Sea. Its closest relative is the Sooty Gull. It is one of the world's rarest gulls, with a population of just 4,000 - 6,500 pairs. The species is classed as Near Threatened by the IUCN; human pressure and oil pollution are deemed the major threats. As is the case with many gulls, it has traditionally been placed in the genus Larus.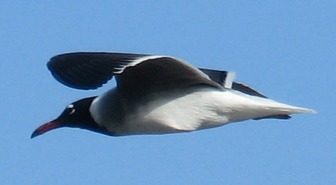 Picture of the White-eyed Gull has been licensed under a
GFDL
Original source
: Transferred from de.wikipedia; Transfer was stated to be made by User:PurpleHz.(Original text : selbst fotografiert)
Author
: Original uploader was Nikswieweg at de.wikipedia(Original text : Klaus Polak, Pseudonym Nikswieweg)Permission(Reusing this file)CC-BY-SA-2.0-DE; Licensed under the GFDL by the author.
Permission
: GNU Free Documentation License
The White-eyed Gull is classified as Near Threatened (NT), is close to qualifying for or is likely to qualify for a threatened category in the near future.

A fact from White-eyed Gull appeared on Wikipedia's Main Page in the Did you know? column on 18 April 2007. The text of the entry was as follows: "Did you know * ... More
The White-eyed Gull (Ichthyaetus leucophthalmus) is a small gull which is endemic to the Red Sea. Its closest relative is the Sooty Gull. It is one of the world's rarest gulls, with a population of just 4,000 - 6,500 pairs. The species is classed as Near Threatened by the IUCN; human pressure and oil pollution are deemed the major threats. As is the case with many gulls, it has traditionally been placed in the genus Larus. More
White-eyed Gull - Flickr Selection White-eyed Gull is endemic to the Red Sea and strictly coastal. 1st-winter, Egypt, Sinai, Sharm-el-Sheikh, 02/28/2008 1st-winter, Egypt, Sinai, Sharm-el-Sheikh, 02/28/2008 Adult Summer,Umm Usk, Egypt Image copyright & credits 1st-winter courtesy Sergey Yelisleev http://www.flickr.com/photos/yeliseev/Adult courtesy Asbjorn Hansen, http://www.flickr.com/photos/xoto/ Posted by alan tilmouth at 14:16 Labels: Larus leucophtalmus, White-eyed Gull 1 comments: Joel said... More
Images White-eyed gull at nest This gull species can be identified by its black head and upper breast, dark back and dark grey wings. The brown eyes are surrounded by a red ring and have a white crescent both above and beneath them. The bill is slender, red, and droops slightly to ... More
White-eyed gull at nest White-eyed gull at nestPrint factsheet Facts - French: Goéland À Iris Blanc Kingdom Animalia Phylum Chordata Class Aves Order Charadriiformes Family Laridae Genus Larus (1) Size More
For the purposes of our bird news services, White-eyed Gull is classed as ungraded: species which are unlikely to appear as wild birds in Britain or Ireland (Note that rarity levels are currently applied nationally and may not reflect local variations in abundance. More
White-eyed Gulls, Israel, Eilat Mar 2009 © Chris Lansdell Oenanthe Birding Adventures - great value birding tours to many destinations - 2009 & 2010 White-eyed Gulls - White-eyed Gull, Israel, Eilat Jan '07 © Noah Gaines Trip Report available White-eyed Gull - White-eyed Gull, Yemen, Hodeidah 18.01. More