Glaucous Gull
This species breeds colonially or singly on coasts and cliffs, making a lined nest on the ground or cliff. Normally, 2–4 light brown eggs with dark chocolate splotches are laid.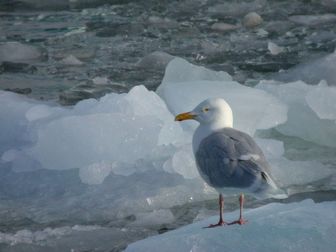 Picture of the Glaucous Gull has been licensed under a Creative Commons
Attribution-Share Alike
.
Original source
: Flickr
Author
: Alastair Rae from London, UKReviewerBanangraut
The Glaucous Gull is classified as Least Concern. Does not qualify for a more at risk category. Widespread and abundant taxa are included in this category.

The Glaucous Gull (Larus hyperboreus) is a large gull which breeds in the Arctic regions of the northern hemisphere and the Atlantic coasts of Europe. It is migratory, wintering from in the North Atlantic and North Pacific oceans as far south as the British Isles and northernmost states of the USA, also on the Great Lakes. A few birds sometimes reach the southern USA and northern Mexico. More
Gulls of North America > Glaucous Gull Glaucous Gull is a four year gull - such that they obtain their adult plumage in the fourth winter. First Winter Plumage: birds are pale and variably brownish. Easily seperated from Herring gulls by white primaries. Second Winter Plumage: generally paler/creamier than in their juvenile/first-winter pulmage. Third Winter Plumage: Wings remain largely whitish, though they may start to acquire grey feathering in their mantle and scapulars. More
Glaucous Gull: Breeds in Alaska and northern Canada. Spends winters along the coast south to California (rarely) and Virginia; rarely found in the Great Lakes and the Gulf coast. Preferred habitats include shores of lakes, rivers, and coast, as well as refuse dumps and sewage outflows. More
Glaucous gulls breed along the coast of western and northern Alaska from the Yukon-Kuskokwim Delta to Demarcation Point on the Canada border and on several islands in the Bering Sea. The center of abundance of glaucous gulls in Alaska is the Yukon-Kuskokwim Delta and the east side of the Bering Strait. The largest breeding concentration of glaucous gulls is on St. Matthew/Hall Island. Glaucous gulls are common in the Aleutians in winter. More
* First- and second-year Glaucous Gulls appear to move farther southward than adults, and most individuals seen in the southern portion of the winter range are immatures. * The Glaucous Gull is an active predator at seabird nesting colonies. More
Cool Fact: Glaucous Gulls forage more effectively in foggy and windy conditions than in still weather, because of their enhanced ability to maneuver aerially and ambush prey. Glaucous Gulls are powerful, imposing gulls of the tundra and sea coasts of the high Arctic. Distinguished from other gulls by their pale gray upperparts, immaculate white wing tips, and hulking proportions, they cross paths with people mostly in winter, when the gulls may be found on much of the coastline of the United States. More
Glaucous Gull is a large, pale gull with a large bill. The adult appears very white. Its back and wings are light gray, and the wingtips are white, with no black on the wing. The tail is white. The legs are pink, and the eyes are yellow. The bill is yellow with a red spot. In the non-breeding season, the adult's head is streaked with brown. Birds in breeding plumage have pure white heads and fleshy yellow eye-rings. More
Glaucous Gulls are regular winter visitors to the West Midlands Region and are anticipated every winter by gull-watchers at the larger roosts, particularly Belvide, Blithfield & Chasewater in Staffordshire and Draycote Water in Warwickshire. An earlier analysis of the status of Glaucous and Iceland Gull in the region was published in British Birds in 1976 (Dean and Dean, 1976). Numbers have declined significantly, however, since the late 1980s, and a brief summary of these changes was published in Birdwatch in 2002 (Dean 2002). More
immature Glaucous Gull was found beached and unable to fly in Cape Canaveral on January 31st by Phyllis, a Florida Wildlife Hospital member and long time birder. Upon its arrival at Florida Wildlife Hospital, we found no apparent injuries and administered fluids to rehydrate. Laboratory tests showed a considerable parasite load and he is currently under treatment. We provide water therapy daily for physical therapy and to help maintain waterproofing. More
* Glaucous Gulls occur in small numbers or are found only in localized sites within the Great Plains. More
In glaucous gull blood samples, collected in September 1998, eight mono-ortho, nine di-ortho and four tri-ortho-PCB congeners have been determined, as well as organochlorine pesticides: p,p More
Glaucous Gull, 1st cycle (# 1 of 3) Glaucous Gull, 1st cycle (# 1 of 3) Glaucous Gull, 1st cycle (#2 of 3) Glaucous Gull, 1st cycle (#2 of 3) Glaucous Gull, 1st cycle (#3 of 3) Glaucous Gull, 1st cycle (#3 of 3) Glaucous Gull, 1st cycle (#1 of 2) Glaucous Gull, 1st cycle (#1 of 2) Glaucous Gull, 1st cycle (#2 of 2) Glaucous Gull, 1st cycle (#2 of 2) More
Glaucous Gulls are powerful, imposing gulls of the tundra and sea coasts of the high Arctic. Distinguished from other gulls by their pale gray upperparts, immaculate white wing tips, and hulking proportions, they cross paths with people mostly in winter, when the gulls may be found on much of the coastline of the United States. The breeding behavior and population dynamics of the species remain relatively poorly understood, in large part because of the remoteness of its nesting grounds. More
* A glaucous gull that is all-over (heavily patterned) mottled light-brown and has a black end-third to it's otherwise pink bill, was born this year, and has come down from the Northern breeding grounds. It is on it's first winter migration. More
Like some of the other gulls, an adult glaucous gull has a bright red spot on the lower part of it's yellow bill. A chicks peck at this spot when it wants to be fed, and this stimulates the parent to regurgitate what it last ate, providing food for the chick. In the adult glaucous gull, the back and the upper sides of the wings are very pale grey. The underparts and tail are completely white. More