Heermann's gull
This species looks distinctly different from other gulls. Adults have a medium gray body, blackish-gray wings and tail with white edges, and a red bill with a black tip. The head is dusky gray in non-breeding plumage and white in breeding plumage. Immatures resemble non-breeding adults but are darker and browner, and the bill is flesh-colored or pink till the second winter. A few birds, no more than 1 in 200, have white primary coverts, which form a showy spot on the upper wing.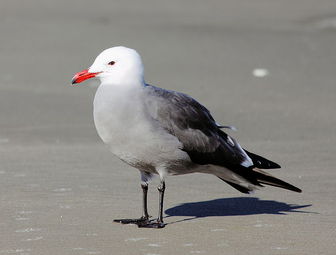 Picture of the Heermann's gull has been licensed under a
GFDL
Original source
: Own work
Author
: BasarCamera location
Permission
: GNU Free Documentation License
The Heermann's gull is classified as Near Threatened (NT), is close to qualifying for or is likely to qualify for a threatened category in the near future.

One of North America's most beautiful gulls, Heermann's Gull is a unique bird of the Pacific Coast. Almost the entire global population of this species breeds on one island group off the coast of western Mexico - following breeding season, these gulls disperse northward along the coast as far as southern British Columbia. Surprisingly aggressive for birds their size, Heermann's Gulls steal fish from the pouches of Brown Pelicans and actively chase other birds to dislodge prey items. More
John Higgins found this Heermann's Gull in the CAP recharge basin on Mile Wide Road in the Avra Valley on 30 March 2008 two days after a different plumaged bird had been found at Sweetwater in Tucson. Although there are about 35 records of Heerman's Gull in Arizona, none has ever stayed in one location for more than a day. Dale Clark photographed this bird the same day it was discovered. Heermann's Gull is an Arizona Bird Committee Sketch Details species. More
Heermann's Gull (Larus heermanni), The Birds of North America Online (A. Poole, Ed.). Ithaca: Cornell Lab of Ornithology; Retrieved from the Birds of North America Online: http://bna.birds.cornell.edu/bna/species/643 doi:10.2173/bna. More
Heermann's Gull • Common Gull (or Mew Gull) • Ring-billed Gull • California Gull • Great Black-backed Gull • Kelp Gull (or Cape Gull) • Glaucous-winged Gull • Western Gull • Yellow-footed Gull • Glaucous Gull • Iceland Gull • Kumlien's Gull • Thayer's Gull • Herring Gull • Heuglin's Gull • American Herring Gull • Yellow-legged Gull • Caspian Gull • East Siberian Gull (or Vega Gull/Mongolian Gull) • Armenian Gull • Slaty-backed Gull • Lesser Black-backed Gull Ichthyaetus More
The Heermann's Gull (Larus heermanni) is a gull resident in the United States, Mexico and extreme southwestern British Columbia. Of the current population of about 150,000 pairs, 90% nest on the island of Isla Rasa off Baja California in the Gulf of California, with smaller colonies as far north as California and as far south as Nayarit. After breeding, birds commonly disperse to central California, and less commonly north as far as British Columbia and south as far as Guatemala. More
Heermann's Gull: Nests on hot desert islands along the coast of western Mexico, migrates northward to the Pacific coast of the U.S. as far north as southern British Columbia; may disperse southward from Mexican breeding grounds. Found along beaches, rocky shoreline, estuaries, and lagoons. More
The strikingly marked Heermann's Gull is common along the West Coast of the United States. This gray-bodied, white-headed gull breeds in Mexico and then moves north along the Pacific Coast to southern British Columbia. More