Black-tailed Gull
It has yellow legs and a red and black spot at the end of the bill. This gull takes 4 years to reach full adult plumage. As the name suggests, it has a black tail. The bird has a cat-like call, giving it its Japanese name — Umineko, Sea cat and Korean name — Gwaeng-yi gull, which means cat gull.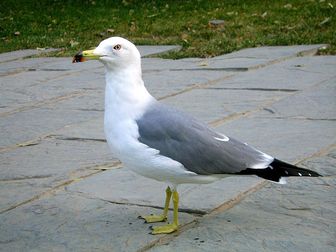 Picture of the Black-tailed Gull has been licensed under a
GFDL
Permission
: GNU Free Documentation License
The Black-tailed Gull is classified as Least Concern. Does not qualify for a more at risk category. Widespread and abundant taxa are included in this category.

Adult Black-tailed Gulls Larus crassirostris Choshi Port, Chiba Prefecture, Japan. 30 January 2006 The Black-tailed Gull Larus crassirostris is endemic to North-East Asia, breeding on sandy and rocky shores, islands and cliffs in the Sea of Japan/East Sea and wintering south as far as Hong Kong where it is a scarce visitor. It has not yet been recorded in Europe, but is an increasingly identified vagrant to North America, where it has appeared as far inland as the Great Lakes. More
Non-adult Black-tailed Gulls Larus crassirostris Choshi Port, Chiba Prefecture, Japan. More
black-tailed gull had been spotted and when I got home I found 8 to 10 E-mails from Iowa birders with directions, maps, advise and even a few phone numbers in case I got really lost. I have to say they have a really great birding community down in Iowa. So I got up early and headed out the door at around 5am. The drive down to Iowa was long, cold and dark. More
The Black-tailed Gull (Larus crassirostris) is a medium-sized (46 cm) gull, with a wingspan of 126-128 cm. The bird is resident in East Asia, including China, Taiwan, Japan and Korea. It is a vagrant to Alaska and northeastern North America. It has yellow legs and a red and black spot at the end of the bill. This gull takes 4 years to reach full adult plumage. As the name suggests, it has a black tail. More
The Black-tailed Gull is a medium-sized seabird found in east Asia, including China, Japan and Korea. Some are occasionally found in Alaska and northeastern North America as well. This bird eats a diet of small fish, mollusks, crustaceans and offal. The Black-tailed Gull can be found following fleets of commercial fishing boats and ships in search of food. It will also frequently steal food from other seabirds. More
Black-tailed GullClick to see a larger version in a pop-up window Early on the morning of August 7, 2003, Chicago birder Mike Miller was scanning Montrose Beach and noticed an odd dark gull among the local Ring-billed Gulls that had gathered at the west end of the beach. More
Black-tailed Gull: Frequents seashores; often forages while wading, swimming, or walking; eats small fish, especially smelt and greenlings; also eats insects, crustaceans, carrion, and refuse. Will catch insects or other food in flight. Vocalization Black-tailed Gull: Very low "kaoo-kaoo." Similar Species Black-tailed Gull: Belcher's Gull has darker blackish upperwings and mantle, dark eyes with yellow orbital ring, and longer legs. More
The Black-tailed Gull feeds mainly on small fish, molluscs, crustaceans scraps and carrion. It often follows ships and commercial fishing fleets. It does steal food from other seabirds. It is a colonial nester, with colonies forming in mid-April. 2-3 eggs are laid by early June. Incubation lasts approximately 24 days. A rare visitor to the United States, a black-tailed gull was spotted from Burlington, Vermont, in October 2005. More
Black-tailed GullsThe Black-tailed Gull (Larus crassirostris) is a resident in East Asia, including China, Japan and Korea. It is a vagrant to Alaska and northeastern North America. A rare visitor to the United States, a black-tailed gull was spotted from Burlington, Vermont, in October 2005. Description This is a medium-sized (46 cm) gull, with a wingspan of 126-128 cm. More
Eventually, when his fervor faded, the Black-tailed Gull was content to sit on the Lake perhaps only 100 feet from shore. Thanks to Julie Hart and Matt Medler for discovering/keeping us all updated on this mega-rare Asian stray!!! Charlotte Town Beach near Charlotte, VT. November-2005. Canon EOS-10D, EF 100-400mm F4.5-5.6L IS USM Lens. ISO 100. Speedlight 580 EX. ETTL and Evaluative metering. More
This is a shot of the Black-tailed Gull in flight. The feet are caked with mud. Again, note the black tail band with the white terminal band and white outer tail feathers 305 Loganberry Ct. More
Black-tailed Gull (Larus crassirostris) in New York - Late in the afternoon on Sunday 31st January 1999, Andy Guthrie and I discovered an adult Black-tailed Gull (Larus crassirostris) roosting in a flock of Ring-billed Gulls (Larus delawarensis) near Parking Field #6 at Jones Beach on the south shore of Long Island, New York. To the best of our knowledge, this represents the first state record of this asiatic species. More
Black-tailed Gull is found along coastlines from far eastern Russia south to China, Japan, and Korea. It is a vagrant to Alaska and also farther south along the coasts of North America as far as the U.S.–Mexico border, mostly on the Atlantic side. Washington's only accepted record was from the mouth of Willapa Bay (Pacific County), where it was seen intermittently from August to October 2004. California also has a single record, as does British Columbia. There are none for Oregon. More
The Black-tailed Gull (Larus crassirostris) is a fairly common bird in East Asia, with a range centred on China and Japan.The species is migratory with birds being regularly recorded as far south as Hong Kong and vagrants reaching as far south as Australia. Of interest to US birders, Black-tailed Gulls are now recorded almost annually in North America, with most of the records coming from Alaska (mutliple occurrences) and the East Coast. More
a black-tailed gull, and it had never before been seen in Vermont! Black-tailed gulls are native to the Far East, to China and Japan. They are sometimes seen on the West Coast of North America and are widespread throughout the Pacific. But Vermont's black-tailed gull was a long, long way from home, and a certifiable rarity. And so E-mails began to hum, and the bright, busy, slightly zany subculture of serious birdwatching was put on alert. Birders across the eastern half of the U.S. More