European herring gull
The taxonomy of the Herring Gull / Lesser Black-backed Gull complex is very complicated, different authorities recognising between two and eight species.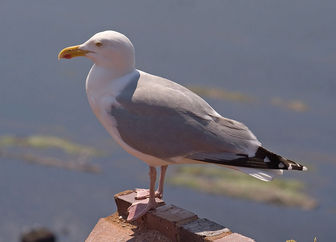 Picture of the European herring gull has been licensed under a
GFDL
Original source
: : picture taken by Kurt Kulac at 2007-06-09
Author
: KulacI, the copyright holder of this work, hereby publish it under the following licenses: This file is licensed under the Creative Commons Attribution-Share Alike 2.5 Generic license.You are free:to share – to copy, distribute and transmit the work
Permission
: GNU Free Documentation License
The European herring gull is classified as Least Concern. Does not qualify for a more at risk category. Widespread and abundant taxa are included in this category.

European Herring Gull was reported from Florida's Volusia County Landfill, Volusia County on January 27, 2008 (FLARBA). Directions: From I-4 East, take exit 129 (US-92 E, toward Daytona Beach) to W. International Speedway Blvd (US-92). After 3.16 miles, turn right on Tomoka Farms Rd (CR- 415). At the landfill, 3-4 miles (DeLORME p.75), it is necessary to sign in-and-out at office on the right. Please stay away from trucks and stay clear of active dumping. Stay only on paved roads. More
to European Herring Gulls, belonging instead to a separate clade of gulls. Several authorities such as the Association of European Rarities Committees and British Ornithologists' Union now recognize it as a separate species. The BOU also includes the East Siberian Gull (Larus vegae) of north-east Asia within the American Herring Gull. The American Ornithologists' Union has not adopted the split and continues to treat the American Herring Gull as a subspecies of Larus argentatus. More
brown than European Herring Gulls and have a dark tail. * L. (a.) vegae, Vega Gull, breeds in north-east Siberia. It winters in Japan, Korea, eastern China and Taiwan. Several other gulls have been included in this species in the past but are now normally considered separate, e.g. Yellow-legged Gull (L. michahellis), Caspian Gull (L. cachinnans), Armenian Gull (L. armenicus) and Heuglin's Gull (L. heuglini). More
European Herring Gull - Larus argentatus argentatus I had ever seen. After reviewing every available reference and picture in print and on the net I am still thinking that this seems to meet all the criteria for European Herring Gull. For those not obsessed with Larus taxonomy. The three Herring Gulls- European, Vega and American are still even after a recent review considered subspecies of Larus argentatus - argentatus, vegae, smithsonianus respectively by the AOU. More
First winter European Herring Gull -Hans Larrson The above picture was taken by Hans Larrson in Sweden this past December. It clearly illustrates the heavily streaked chest and belly. My bird below clearly differs with a neat uniform chest and belly as well as lightly vermicullated flanks. My First winter "Herring Gull" The flanks on the following L.a . argentatus from Sweden are much heavier marked with blotchy bold patterning. More
it is a European Herring Gull, though without better views/photos of the flight feathers and tail it is difficult to be sure: Russell Wynn (11/4/03): "Your juvenile bird is still in largely juvenile plumage - any juv mich over here would be well into first-winter plumage by now. Also the bill is a bit weak for mich. More
This European Herring Gull had been present since at least Sunday, December 20, 2009, when it was photographed by Bill Rudden. The tail pattern is unlike any typical L. a. smithsonianus and matches better with the European group, L. a. argentatus/argenteus or the East Asian, L. a. vegae. Lighting conditions were quite good with the early morning sun producing a rather warm tone to many of the photos. More
European Herring Gull at the St. John's dump on 25 January 2004. More