Collared Pratincole
Pratincoles are unusual among waders in that they typically hunt their insect prey on the wing like swallows, although they can also feed on the ground.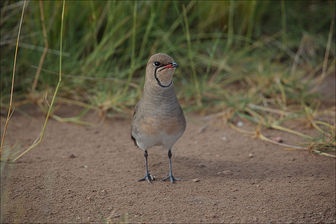 Picture of the Collared Pratincole has been licensed under a Creative Commons
Attribution-Share Alike
.
Original source
: Own work
Author
: Ludovic Hirlimann
The Collared Pratincole is classified as Least Concern. Does not qualify for a more at risk category. Widespread and abundant taxa are included in this category.

the Collared Pratincole, and is shorter-tailed and longer legged. Although the dark underwing and lack of a white trailing edge to the wing are diagnostic, these features are not always readily seen in the field, especially as the chestnut underwing of the Collared Pratincole appears black unless excellent views are obtained. The scientific name of this bird commemorates the Finnish-born zoologist Alexander von Nordmann. More
The Collared Pratincole or Common Pratincole, Glareola pratincola, is a wader in the pratincole family, Glareolidae. Pratincoles are unusual among waders in that they typically hunt their insect prey on the wing like swallows, although they can also feed on the ground. The Collared Pratincole is a bird of open country, and is often seen near water in the evening, hawking for insects. It is found in the warmer parts of Europe, southwest Asia and Africa. More
Physical characteristics: The collared pratincole is 8.7 to 9.8 inches (22 to 25 centimeters) in length and weighs between 2.1 and 3.7 ounces (60 to 104 grams). It is a smoky gray-brown color on the back and pale on the belly. During the breeding season, there is a yellow patch on the throat surrounded by a thin black collar. The bill is red at the base and black elsewhere. Collared pratincoles have slender bodies, short legs, and long wings. More
Diet: Collared pratincoles eat primarily insects, which they catch in flight or grab from the ground. Grasshoppers and beetles make up the bulk of their diet. Behavior and reproduction: Collared pratincoles are found in large flocks during both the breeding and nonbreeding seasons. They tend to spend time feeding in the air, and then rest on the ground for periods of time. They scrape a shallow indentation in the ground for a nest, sometimes lining it with pieces of vegetation. More
Collared Pratincole (Other names : Common Pratincole) Earlier considered conspecific with the Oriental Pratincole, but has earned separate species status. The Collared Pratincole is very similar in most respects to Oriental Pratincole, and believed to be migratory. Separated from Oriental Pratincole by paler mantle, pale tips to secondaries, more prominently forked tail, and the tip of the longer tail reaching the tips of primaries when perched. Distribution: Believed to breed in Pakistan and visit India in winter. More
Collared pratincoles are highly gregarious at all times, even when breeding. They spend much time resting on the ground between bouts of aerial feeding. They tend to be vocal, especially in breeding colonies and on migration. Their flight is buoyant. FEEDING ECOLOGY AND DIET Catch flying insects on the wing and chase prey on the ground by running or by a short leap into the air. More
pratincoles, such as the very similar Collared Pratincole, which also has a chestnut underwing, and Black-winged Pratincole which shares the black upperwing flight feathers and lack of a white trailing edge to the wing. These features are not always readily seen in the field, especially as the chestnut underwing appears black unless excellent views are obtained. G. maldivarum On the 7th of February 2004, 2. More
Collared pratincole eggs in mud-flat nest© Emile Barbelette / Biosphoto Collared pratincole chick with egg© Hanne & Jens Eriksen Collared pratincole with chick and egg at nest© Hanne & Jens Eriksen / naturepl.com Juvenile collared pratincole, front view© Hanne & Jens Eriksen / naturepl.com Juvenile collared pratincole© Hanne & Jens Eriksen / naturepl.com Immature collared pratincole, side view© Tony Heald / naturepl. More
collared pratincoles from females and (4), for both sexes, breeding adults have cream-coloured throats (5). Juveniles lack the distinctive head decorations of the adults, and also differ in the plumage of the back, which has a scaled pattern (5) (6). Range - The collared pratincole breeds in southern Europe, north and central Africa, and central Asia, and migrates south during winter to southern Africa and India (3) (7). More
For the purposes of our bird news services, Collared Pratincole is classed as Rare: species currently considered for acceptance by the British Birds Rarities Committee (or forms of equivalent rarity). More
Collared Pratincole (Glareola pratincola), also called Swallow Plover, is a sparse winter visitor in India. Earlier considered having two subspecies: G. pratincola pratincola and G. pratincola maldivarum. But now G. p. maldivarum has been split as a separate species Oriental Pratincole (Glareola maldivarum). Size: 23 cm Identification: The Collared Pratincole's under wings are reddish brown and it has a yellow throat with a black outline. The wings are long and pointed and it has a forked tail. More
The height of the Collared Pratincole is between 17 to 21 centimeters (6 to 8 inches). It weighs about 1 to 3 ounces (37 to 85 grams). The bird's under wings are reddish brown and it has a yellow throat with a black outline. The wings are long and pointed and it has a forked tail. The bird's legs are short and it retains the hind toe. It has large eyes, and the bill is arched and pointed with a wide gape to capture insects. More
Though not globally threatened, collared pratincoles have declined in numbers in Europe and parts of Africa as a result of pesticides, artificial fertilizers, habitat destruction, and disturbance, especially of breeding colonies. Breeding sites need protection. SIGNIFICANCE TO HUMANS Apart from the commercial collecting of eggs, the collared pratincole has little significance to humans. In the past it probably helped to control locust plagues, but the decline in numbers reduces the birds' impact in this regard. More
The Collared Pratincole or Common Pratincole (Glareola pratincola) is a species of wading bird found in open country in the warmer parts of Europe, southwest Asia and Africa. It is a migratory species and winters in tropical Africa, and is rare north of its breeding range. It can often be seen near the water in the evening. The adult is 9.5 to 11 inches long with a 23.6 to 27.5 inch wingspan. More
• Friday, May 29, 2009 - Collared Pratincole at Pagham. Myself and Mark popped out of county this afternoon to catch up with the Collared Pratincole that had arrived at Pagham yesterday evening. We were not the only Hants birders sneaking across the border but I won't reveal names!! We were present near Breach Pool (first time for us at this site and very nice it is too), for about twenty minutes before the Pratincole appeared. More