Little Pratincole
The Little Pratincole is a resident breeder in India, Western Pakistan and southeast Asia. It breeds from December to March on gravel or sand banks in rivers, laying 2-4 eggs in a ground scrape. Breeding areas include small areas in northern Karnataka and northern Kerala near Kannur.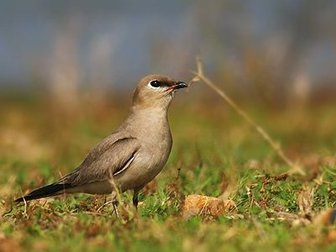 Picture of the Little Pratincole has been licensed under a
GFDL
Original source
: photograph by Kousik Nandy and Sumana Paul
Author
: Kousik Nandy and Sumana PaulPermission(Reusing this file)GFDL and CC-BY-SA
Permission
: GNU Free Documentation License
The Little Pratincole is classified as Least Concern. Does not qualify for a more at risk category. Widespread and abundant taxa are included in this category.

The Little Pratincole or Small Indian Pratincole (Glareola lactea), is a small wader in the pratincole family, Glareolidae. The Little Pratincole is a resident breeder in India, Western Pakistan and southeast Asia. It breeds from December to March on gravel or sand banks in rivers, laying 2-4 eggs in a ground scrape. Breeding areas include small areas in northern Karnataka (along the Hemavathi river) and northern Kerala near Kannur. At Purbasthali in Bardhaman District of West Bengal, India. This species is only 16.5-18. More
The Little Pratincole is a resident breeder in India, Western Pakistan and southeast Asia. It breeds on gravel or sand banks in rivers, laying 2-4 eggs in a ground scrape. Breeding areas include small areas in northern Karnataka and northern Kerala near Kannur. See more at Wikipedia.org... More
Small Pratincole (Glareola lactea) or Little Pratincole is a resident breeder in India, Western Pakistan and southeast Asia. It breeds on gravel or sand banks in rivers, laying 2-4 eggs in a ground scrape. Breeding areas include small areas in northern Karnataka and northern Kerala near Kannur. This was Photographed in Malyadi Bird Sanctuary. This species is only 16.5-18.5 cm in length, with a 15-16 cm wingspan. Because of its small size, the Little Pratincoles can be briefly confused in flight with swifts or swallows. More