Indian Courser
This courser is widespread in South Asia and overlaps with some other species such as the similar looking Cream-coloured Courser. This species is however brighter coloured than the Cream-coloured Courser and has a broader black eye-stripe that begins at the base of the beak. The crown is chestnut and the breast is rufous. The nape has a dark black patch where the long longer feathers forming the white stripe meet.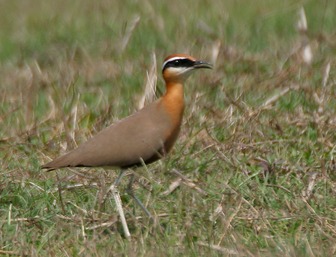 Picture of the Indian Courser has been licensed under a
GFDL
Original source
: J.M.Garg
Author
: J.M.Garg
Permission
: GNU Free Documentation License
The Indian Courser is classified as Least Concern. Does not qualify for a more at risk category. Widespread and abundant taxa are included in this category.

The Indian Courser (Cursorius coromandelicus) is a species of courser found in mainland South Asia, mainly in the plains bounded by the Ganges and Indus river system. Like other coursers it is a ground bird found in dry open semi-desert country. More
An Indian Courser (*Cursorius coromandelicus*) at Sultanpur, with the rapid fencing up of the flats its just a matter of time before these beautiful birds vanish from here. Cheers, Rajneesh *"The mind is like a parachute, it works only when it's open"* Courser,Indian 3345_fcw.jpg 157K Download Forward You must Sign in before you can post messages. More
Indian Courser Forward | Print | Individual message | Show original | Report this message | Find messages by this author - Surya Prakash, Ph.D. ( Zoology) Room # 219 C.C.I.F. School of Life Sciences Jawaharlal Nehru University New Delhi 110067 INDIA Phone (Work) 26704184 - You received this message because you are subscribed to the Google Groups "delhibirdpix" group. To post to this group, send email to delhibirdpix@googlegroups.com. More
The Indian Courser, Cursorius coromandelicus, was once a characteristic bird of dry plains and fallow in much of India. In recent years it has become inexplicably scarce and it is indeed a red-letter day if you find them. Their prefered habitat is still widely available but it is probably only in parts of Rajasthan and Gujarat that they are still tolerably common. More
For the purposes of our bird news services, Indian Courser is classed as Ungraded: species which are unlikely to appear as wild birds in Britain or Ireland hide section Most recent photos of Indian Courser (10) Little Rann of Kutch, India Little Rann of Kutch, India31/01/2010 Little Rann of Kutch, India 31/01/2010 Rauf Kheda,Tonk,, Rajastan, India Rauf Kheda,Tonk,, Rajastan, India14/03/2010 Rauf Kheda,Tonk,, Rajastan, India 14/03/2010 Rauf Kheda, Tonk, Rajastan, India Rauf More
Indian Courser (Cursorius coromandelicus) is a widespread resident in India. More
Aspects of the topic Indian courser are discussed in the following places at Britannica. Assorted References * description (in courser (bird)) ...cream-coloured courser (Cursorius cursor) of Africa, a pale-brown bird with white underparts, bold eye stripes, and black wing tips. The Indian courser (C. coromandelicus) is brown with a strong face pattern. The bronze-winged courser (Rhinoptilus chalcopterus),... More