Banded Lapwing
The Banded Lapwing is a small to medium sized wader which belongs to the plover family. It is found over most of Australia and Tasmania though is absent from the northern third of the continent.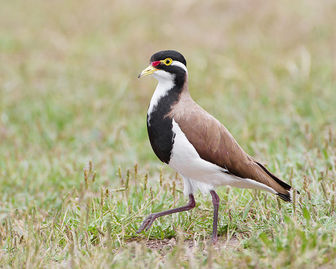 Picture of the Banded Lapwing has been licensed under a Creative Commons
Attribution-Share Alike
.
Original source
: Own work
Author
: JJ Harrison (http://www.noodlesnacks.com/)Camera location
The Banded Lapwing is classified as Least Concern. Does not qualify for a more at risk category. Widespread and abundant taxa are included in this category.

The Banded Lapwing is a large plover with a broad black breast band and white throat. The upperparts are mainly grey-brown with white underparts. There is a black cap and broad white eye-stripe, with a yellow eye-ring and bill and a small red wattle over the bill. The legs are pinkish-grey. These lapwings have an upright stance and a slow walk, breaking into a faster trot when alarmed. They fly with quick, clipped wing-beats - giving them the name 'lapwing'. More
Banded Lapwing on nest. Banded Lapwing on nest. Photo: Purnell Collection © Australian Museum Banded Lapwing. Banded Lapwing. Photo: K Vang and W Dabrowka © Bird Explorers Distribution map of Vanellus tricolor Distribution map of Vanellus tricolor Map © Birds Australia Birdata Did you know? The Banded Lapwing uses foot-tapping to disturb insects from cover, running to catch anything that moves. More
The Banded Lapwing (Vanellus tricolor) is a small to medium sized wader which belongs to the plover family. It is found over most of Australia and Tasmania though is absent from the northern third of the continent. Banded Lapwings are characterised by their black cap,white ear-stripe and black band around breast with white throat and 'bib'. Eye is yellow and is encircled by a fleshy yellow ring, a small red wattle lies at beginning of yellow bill. More
This is a Banded Lapwing, an uncommon nomadic bird that is distributed over much of the Australian continent south of the Tropic of Capricorn. It prefers open areas, especially stony plains and short grassy plains. They are usually found in pairs or small groups, with only the occasional gatherings of flocks. I hadn More
The banded lapwing may be active at night and disturb other birds in the aviary. This can occur most often on full moon or bright moonlit nights. Many articles have been published describing how the banded lapwing likes to breed in or inhabit areas that are regularly maintained. Golf courses and the surrounds of airports are a popular place for these birds to be found. More
The Banded Lapwing is the less common of the two species of Australian lapwing and is also less conspicuous, it inhabits open spaces with short grass, or stubble. Nests on ground in shallow scrape lined with small stones,twigs or animal droppings. Voice is a loud "er-chill-chaar-char". References - * BirdLife International (2004). Vanellus tricolor. 2006 IUCN Red List of Threatened Species. IUCN 2006. Retrieved on 11 May 2006. More