Crowned Lapwing
The Crowned Lapwing , also known as the Crowned Plover, is a bird of the lapwing subfamily that occurs contiguously from the Red Sea coast of Somalia to southern and southwestern Africa. It is an adaptable and numerous species, with bold and noisy habits. It is related to the more localized Black-winged and Senegal Lapwings, with which it shares some plumage characteristics.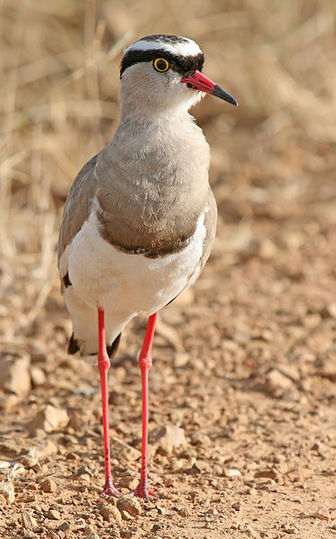 Picture of the Crowned Lapwing has been licensed under a
GFDL
Original source
: Own work
Author
: Muhammad Mahdi Karim FacebookThe making of this document was supported by Wikimedia CH.For all the files concerned, please see the category Supported by Wikimedia CH.
Permission
: GNU Free Documentation License
The Crowned Lapwing is classified as Least Concern. Does not qualify for a more at risk category. Widespread and abundant taxa are included in this category.

The Crowned Lapwing is easily recognized by its combination of brown and white colours, with most tellingly, a black crown intersected by an annular white halo. Adults are noisy and conspicuous. Males measure on average 3% larger than females. Juveniles are dull versions of adults, vermiculated on the wings and mantle, the legs yellowy rather than red and the bill lacking the red base. More
The Crowned Lapwing is one of the species to which the Agreement on the Conservation of African-Eurasian Migratory Waterbirds (AEWA) applies. Behaviour Crowned Lapwings and the more localised Black-winged Lapwings sometimes associate and do not show mutual aggression, even within breeding territories. Different Crowned Lapwing males do however posture aggressively when nesting territories are established. The loser in an encounter assumes a special posture to signal his defeat. More
Distribution of Crowned lapwing in southern Africa, based on statistical smoothing of the records from first SA Bird Atlas Project (© Animal Demography unit, University of Cape Town; smoothing by Birgit Erni and Francesca Little). Colours range from dark blue (most common) through to yellow (least common). See here for the latest distribution from the SABAP2. More
The Crowned Lapwing is a Southern African bird that belongs to the Charadriidae bird family group which includes birds such as Plovers, Lapwings. The description for the Crowned Lapwing (Latin name Vanellus coronatus) can be found in the 7th Edition of the Roberts Birds of Southern Africa. The Vanellus coronatus can be quickly identified by its unique Roberts identification number of 255 and the detailed description of this bird is on page 417. More
Aspects of the topic crowned lapwing are discussed in the following places at Britannica. Assorted References * description (in lapwing (bird)) There are about 24 other species of lapwings in South America, Africa, southern Asia, Malaya, and Australia. The crowned lapwing (Stephanibyx coronatus), of Africa, has a black cap with a white ring around it. The red-wattled lapwing, Vanellus (sometimes... More
Crowned Lapwing Vanellus coronatus, Rietvlei Nature Reserve This photo has notes. Move your mouse over the photo to see them. To take full advantage of Flickr, you should use a JavaScript-enabled browser and install the latest version of the Macromedia Flash Player. Comments view profile Wild Images Pro User says: Die eerste geveerde wie se stem onuitwisbaar in my wese ingeprent is! Kan sy kroontjie mooi sien! Posted 5 months ago. More
The Crowned Lapwing (Vanellus coronatus) is also called Crowned Plover by some authors. The species is fairly common and widespread over parts of eastern and southern Africa. They are often seen in small groups foraging in short grass fields. The shots here were taken near Pietersburg, Limpopo Province, South Africa in January, 2006 with a Canon EOS 1D Mark II & EF 500mm F/4L IS lens and 1.4X extender. More
Crowned Lapwing Kruger National Park The Crowned Lapwing (Latin name Vanellus coronatus) is described in Roberts Birds of Southern Africa, 7th Edition. This bird has a unique Roberts number of 255 and you will find a full description of this bird on page 417 also a picture of the Crowned Lapwing on page 385. The Crowned Lapwing belongs to the family of birds classified as Charadriidae. More
Crowned Lapwing (Vanellus coronatus) by Derek Solomon from Botswana XC46004 :: Crowned Lapwing (Vanellus coronatus) = Recording data Recordist Derek Solomon Date 20-2-09 Time 07:15 Country Botswana Location Mashatu Game Reserve Longitude E29.9'42" Latitude S22. More
vues bal24 — 4 avril 2007 — Crowned Lapwings at the waterhole. Love their red stockinged legs and their white head. bal24 — 4 avril 2007 — Crowned Lapwings at the waterhole. Love their red stockinged legs and their white head. More