Blacksmith Lapwing
The Blacksmith Lapwing or Blacksmith Plover occurs commonly from Kenya through central Tanzania to southern and southwestern Africa. The vernacular name derives from the repeated metallic 'tink, tink, tink' alarm call, which suggests a blacksmith's hammer striking an anvil.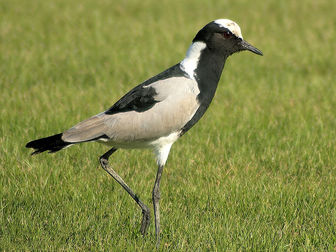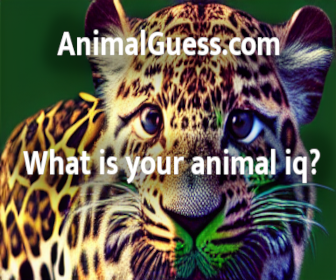 Picture of the Blacksmith Lapwing has been licensed under a Creative Commons
Attribution-Share Alike
.
Original source
: Own work
Author
: Hans HillewaertPermission(Reusing this file)I, the copyright holder of this work, hereby publish it under the following license: This file is licensed under the Creative Commons Attribution-Share Alike 3.0 Unported license.You are free:to share – to copy, distribute and transmit the work
The Blacksmith Lapwing is classified as Least Concern. Does not qualify for a more at risk category. Widespread and abundant taxa are included in this category.

Blacksmith Lapwings are very boldly patterned in black, grey and white, possibly warning colours to predators. It is one of five lapwing species (two African, one Asian and two Neotropical) that share the characteristics of a carpal (wing) spur, red eye and a bold pied plumage. The bare parts are black. Females average larger and heavier but the sexes are generally alike. More
Blacksmith Lapwing (Vanellus armatus) at the Milwaukee County Zoological Gardens in Milwaukee, Wisconsin. Date October 6, 2006. Author http://en.wikipedia.org/wiki/User:Cburnett Permission is granted to copy, distribute and/or modify this document under the terms of the GNU Free Documentation License, Version 1.2 or any later version published by the Free Software Foundation; with no Invariant Sections, no Front-Cover Texts, and no Back-Cover Texts. A copy of the license is included in the section entitled "GNU Free Documentation License". More
Images Blacksmith lapwings in habitatprevious Blacksmith lapwing image Blacksmith lapwings in habitatnext Blacksmith lapwing image © Mike Hill / www.osfimages.com Oxford Scientific (OSF) 2nd Floor Waterside House 9 Woodfield Road London W9 2BA United Kingdom Tel: +44 (0) 20 7432 8200 Fax: +44 (0) 20 7432 8201 Email: sales@osfimages.com Website: http://www.osfimages. More
Blacksmith lapwing nest with eggs on water© Tony Heald / naturepl.com Camouflaged blacksmith lapwing eggs© Hermann Brehm / naturepl.com Blacksmith lapwing at the nest with eggs© Hermann Brehm / naturepl.com Adult blacksmith lapwing with chick and eggs© Mark Boulton / Biosphoto Blacksmith lapwing sheltering chick in plumage© Hermann Brehm / naturepl.com Blacksmith lapwing with chick© Pete Oxford / naturepl.com Blacksmith lapwing chick© Doug Cheeseman / StillPictures. More
Blacksmith Lapwings expanded their range in the 20th century into areas where dams were built and where intensive farming was practiced. Consequently they are now numerous and established in the western Cape region of South Africa, where they were absent until the 1930s. In this region they have also entered estuarine mud flats in winter where they aggressively displace other waders. More
Blacksmith lapwing, Strandfontein Sewerage Works, Western Cape, South Africa. Blacksmith lapwing, Paarl Bird Sanctuary, South Africa. Distribution and habitat Endemic to sub-Saharan Africa from Kenya through Tanzania to southern DRC, Angola and Zambia to southern Africa. Here it is common in Zimbabwe, northern Botswana, South Africa and central Namibia as well as the Caprivi Strip, while more scarce elsewhere in the region (such as in Mozambique). More
Blacksmith Lapwings have a striking pied appearance - the white forehead contrasting with the black of the nape, face, front of the neck and breast. The mantle and back are black, and the wings are bluish-grey. The hind neck and belly are white. The bill legs and feet are black and the eye is a dark ruby-red. The legs of this species are particularly long - an adaptation to its wading habits. More
The Blacksmith Lapwing is a Southern African bird that belongs to the Charadriidae bird family group which includes birds such as Plovers, Lapwings. The description for the Blacksmith Lapwing (Latin name Vanellus armatus) can be found in the 7th Edition of the Roberts Birds of Southern Africa. The Vanellus armatus can be quickly identified by its unique Roberts identification number of 258 and the detailed description of this bird is on page 408. More
Blacksmith Lapwing by Ian Fulton Location: Okakuejo Camp, Etosha National Park Date Taken: 22/Oct/2004 Upload On: 02/Aug/2009 Rating: ****** Blacksmith Lapwing by Jerry Friedman Photographer: Jerry Friedman Location: Amboseli National Park Date Taken: 09/Dec/2007 Upload On: 09/Dec/2007 Rating: ****** Photographer: Trevor Hardaker Blacksmith Lapwing by Trevor Hardaker Location: Paarl Bird Sanctuary More
4) Blacksmith lapwing in sunset Waiting for boat, Kampala, Enteppe, Bugala Island, East Africa, Uganda, To Ssese Island same location as last photo Fri 2007-09-28 18:23:38 view-blacksmith lapwing in sunset 5) Blacksmith lapwing Island walk, Bugala Island, East Africa, Uganda, Ssese Island walk 3. More
The Blacksmith Lapwing or Blacksmith Plover (Vanellus armatus) is a species of bird found from Kenya through central Tanzania to southern and southwestern Africa. It occurs in wetlands of all sizes. It is even attracted to water troughs and places where water is spilled and dampens the ground. In South Africa this bird are more commonly found in balanced grasslands, as opposed to high-rainfall grasslands. It may leave Zambia and Zimbabwe in years of high rainfall and return in drier years. Mountain habitats are avoided. More
Blacksmith Lapwing Kruger National Park The Blacksmith Lapwing (Latin name Vanellus armatus) is described in Roberts Birds of Southern Africa, 7th Edition. This bird has a unique Roberts number of 258 and you will find a full description of this bird on page 408 also a picture of the Blacksmith Lapwing on page 385. The Blacksmith Lapwing belongs to the family of birds classified as Charadriidae. More
The Blacksmith Lapwing occurs in association with wetlands of all sizes. Even very small damp areas caused by a spilling water trough can attract them. In South Africa they are most numerous in the mesic grassland region, less so in higher-rainfall grasslands. Like the Crowned Lapwing, this species may leave Zambia and Zimbabwe in years of high rainfall and return in dry years. It avoids mountains of any type. More