Chestnut-banded Plover
It is found in Angola, Botswana, Kenya, Mozambique, Namibia, South Africa, Tanzania, Zambia, and Zimbabwe.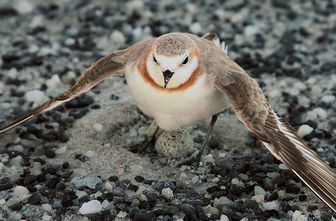 Picture of the Chestnut-banded Plover has been licensed under a Creative Commons
Attribution-Share Alike
.
Original source
: Photograph by Anand Karthik Sarma (rudolfsarma AT yahoo.com)
Author
: Anand Karthik SarmaPermission(Reusing this file)The permission for use of this work has been archived in the Wikimedia OTRS system.It is available as ticket #2010061310027631 for users with an OTRS account. If you wish to reuse this work elsewhere, please read the instructions at COM:REUSE. If you are a Commons user and wish to confirm the permission, please leave a note at the OTRS noticeboard.Ticket link: https://ticket.wikimedia.org/otrs/index.pl?Action=AgentTicketZoom&TicketNumber=2010061310027631
The Chestnut-banded Plover is classified as Near Threatened (NT), is close to qualifying for or is likely to qualify for a threatened category in the near future.

The Chestnut-banded Plover (Charadrius pallidus) is a species of bird in the Charadriidae family. It is found in Angola, Botswana, Kenya, Mozambique, Namibia, South Africa, Tanzania, Zambia, and Zimbabwe. Rarer than previously believed, it is uplisted from a species of Least Concern to Near Threatened in the 2007 IUCN Red List. Footnotes - 1. ^ See BirdLife International (2007a. b). More
Distribution of Chestnut-banded plover in southern Africa, based on statistical smoothing of the records from first SA Bird Atlas Project (© Animal Demography unit, University of Cape Town; smoothing by Birgit Erni and Francesca Little). Colours range from dark blue (most common) through to yellow (least common). See here for the latest distribution from the SABAP2. More
The Chestnut-banded Plover is Africa's smallest and palest plover. It is found on salt pans and soda lakes, estuaries and coastal wetlands in south and east Africa. Photographed at Walvis Bay which is perhaps the easiest location to find them. More
also a picture of the Chestnut-banded Plover on page 384. The Chestnut-banded Plover belongs to the family of birds classified as Charadriidae. According to the Percy FitzPatrick Institute of African Ornithology the Chestnut-banded Plover is also known by these other names: Chestnut-banded Sand Plover. The map of the Kruger you see on this page shows the areas (coloured orange) where this bird has been identified. More
The attractive Chestnut-banded Plover with his colorful necked marked in red is a bird unique to Southern Africa. However, it is a member of a family, the Charadriidae, which has species spread all around the world. These small birds, of squat body and richly contrasting plumage, are found in open spaces everywhere: on beaches, in meadows, on riverbanks, even on mountain tundras. Like all Plovers, the Chestnut-banded Plover is a very sociable bird. More