Little Ringed Plover
Adults have a grey-brown back and wings, a white belly, and a white breast with one black neckband. They have a brown cap, a white forehead, a black mask around the eyes with white above and a short dark bill. The legs are flesh-coloured and the toes are all webbed.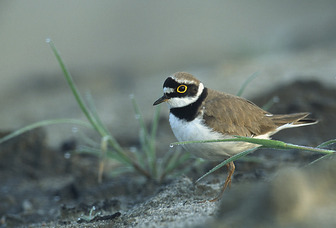 Picture of the Little Ringed Plover has been licensed under a
GFDL
Original source
: Own work
Author
: Marek SzczepanekThis illustration was made by Marek SzczepanekIf you are interested in high resolution pictures, please contact author in order to negotiate condition of use.More pictures can be found on here and in the gallery www.naturephotos.com.pl
Permission
: GNU Free Documentation License
The Little Ringed Plover is classified as Least Concern. Does not qualify for a more at risk category. Widespread and abundant taxa are included in this category.

Before the 1930s the Little Ringed Plover was a rare vagrant to Britain, but its liking for breeding in gravel pits and on the shores of man-made reservoirs has lead to a remarkable spread in abundance line Population and Distribution Population Trend: No population trend available Distribution: Atlas Maps (Help with the New Atlas) British Population Size: Summer: 1046 to 1181 pairs in 2007 More
The Little Ringed Plover (Charadrius dubius) is a small plover. Breeding plumage at Purbasthali in Burdwan District of West Bengal, India. Adults have a grey-brown back and wings, a white belly, and a white breast with one black neckband. They have a brown cap, a white forehead, a black mask around the eyes with white above and a short dark bill. The legs are flesh-coloured and the toes are all webbed. More
This species differs from the smaller Little Ringed Plover in leg colour, the head pattern, and the lack of an obvious yellow eye-ring. The Ringed Plover's breeding habitat is open ground on beaches or flats across northern Eurasia and in Arctic northeast Canada. Some birds breed inland, and in western Europe they nest as far south as northern France. They nest on the ground in an open area with little or no plant growth. More
The Little Ringed Plover has a large range, estimated globally at 10,000,000 square kilometers. Native to Europe, Asia, and Africa and introduced to the United States this bird prefers forest, grassland, wetland, and marine ecosystems. The global population of this bird is estimated at 210,000 to 470,000 individuals and does not show signs of decline that would necessitate inclusion on the IUCN Red List. For this reason, the current evaluation status of the Little Ringed Plover is Least Concern. More
The Little Ringed Plover is one of the species to which the Agreement on the Conservation of African-Eurasian Migratory Waterbirds (AEWA) applies. Different views & aspects - Breeding plumage at Purbasthali in Burdwan District of West Bengal, India. Breeding plumage at Pocharam lake, Andhra Pradesh, India. at Pocharam lake, Andhra Pradesh, India. in Hyderabad, India. in Hyderabad, India. More
The Little Ringed Plover is one of the species to which the Agreement on the Conservation of African-Eurasian Migratory Waterbirds (AEWA) applies. Nesting / Breeding They nest on the ground on stones with little or no plant growth. Diet / Feeding These birds forage for food on muddy areas, usually by sight. They eat insects and worms. More
The little ringed plover spends the winter south of the Sahara before arriving in the UK around March. It's a fairly recent visitor though: the first record of a breeding pair in the UK was in 1938. How to help Join your local RSPB group to find out more about and help with the conservation of the little ringed plover. You can also help the BTO record bird migration and distribution throughout the UK with BirdTrack. More
However, the story of the little ringed plover in north-west Europe since the 1930s provides an impressive exception. Expansion has been achieved through an exploitation of manmade habitats, especially gravel pits and new reservoirs. Shingle stretches in pits provide most nesting sites in England, particularly those still being worked and before the ground becomes too overgrown. Other requirements are fresh water with shallow muddy margins and a rich food supply. More
Little Ringed Plover (Charadrius dubius) breeding in County Tipperary in 2008 Kevin P. Collins Ballygambon, Lisronagh, Clonmel, County Tipperary At 18.00 hours on 29 April 2008, I saw two Little Ringed Plovers (Charadrius dubius) at the edge of a pond in a gravel pit in County Tipperary. During the following hour I saw mating occur and then one bird settled on to a spot on the gravel above the pond. More
Little ringed Plovers are small birds of about 15 cm length. A significant difference to other Plovers is the yellow eye ring. Little ringed Plover's activity continues to gloaming and nocturnal hours. They are running with very fast small steps, appearing like a rolling ball. In between they often stop and move the bodies. For resting they stand on one leg. When the weather is cold, they need up to one week longer for brooding, because they cannot produce enough warmth then. More
Little Ringed Plovers feed on animal titbits found on short grass, bare soil and mud. These include insects, spiders and shrimps. Their hunting style is a characteristic hesitant stop-run-peck, in a hunched position, usually higher up on the shore on drier sand or mud. They are often observed "foot-trembling", standing on one foot while rapidly vibrating the toes of the other foot on the surface. A few seconds later they run forward to peck at something. More
The RSPBJuvenile little ringed ploverViews of pools and hides, RSPB Conwy reserveLittle ringed plover wading in shallow water * A * B * C * D * E * F * G * H * I * J * K More
• Sunday, May 24, 2009 - 'Ringed' Little Ringed Plover at Blashford We left Martin Down and headed to Blashford. We did not expect too much to be around but the Little Ringed Plovers were showing well, briefly in front of the Tern hide. I could see that one bird had a metal BTO ring on its right leg. Some of the digits can be read on the close. Possibly this bird was ringed as a chick at this site. More
* Little Ringed Plover at Treraven Meadow0:51 * Ajouter à la file d'attente Ajoutée à la file d'attente Little Ringed Plover at Treraven Meadow66 vuescamelbirder * Little ringed plover, Hilversum0:24 * Ajouter à la file d'attente Ajoutée à la file d'attente Little ringed plover, Hilversum132 vuesCbirding More