Collared Plover
This small plover is 18 centimetres long and weighs 35 grams . Its upperparts are brown and the underparts white in all plumages. Adults have a black breast band. The male has a white forehead, bordered above by a black frontal bar, and below by a black stripe from the bill to the eye. The midcrown and nape are chestnut and the legs are yellow. In flight, the flight feathers are dark with a white wing bar, and the tail shows white sides.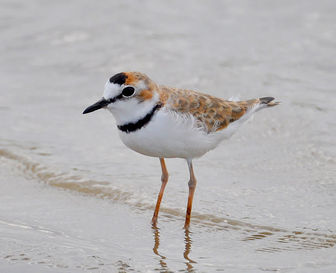 Picture of the Collared Plover has been licensed under a Creative Commons
Attribution-Share Alike
.
Original source
: Batuíra-de-coleira (Charadrius collaris)
Author
: Cláudio Dias Timm from Rio Grande do SulCamera location
The Collared Plover is classified as Least Concern. Does not qualify for a more at risk category. Widespread and abundant taxa are included in this category.

The Collared Plover, Charadrius collaris, is a small shorebird in the plover family, Charadriidae. It lives along coasts and riverbanks of the tropical to temperate Americas, from central Mexico south to Chile and Argentina. This small plover is 18 centimetres (7.1 in) long and weighs 35 grams (1.2 oz). Its upperparts are brown and the underparts white in all plumages. Adults have a black breast band. More
Collared Plover, Charadrius collaris Collared PloverThe Collared Plover, Charadrius collaris, is a small wader in the plover bird family. Distribution / Range It breeds from Mexico south through Central America and most of South America. It also occurs on some of the southern Caribbean islands, and both Trinidad and Tobago. It appears to be mainly sedentary, although there is some evidence for limited seasonal movements. More
* Collared Plover, Charadrius collaris * Puna Plover, Charadrius alticola * Double-banded Plover, Charadrius bicinctus * Two-banded Plover, Charadrius falklandicus * Lesser Sand Plover, Charadrius mongolus * Greater Sand Plover, Charadrius leschenaultii * Caspian Plover, Charadrius asiaticus * Oriental Plover, Charadrius veredus * Eurasian Dotterel, Charadrius morinellus * Rufous-chested Dotterel, Charadrius More
Collared ploverBirds in Suriname = - collared plover in suriname The photo above was made by Erik Toorman in Suriname in July 2006 then two pictures made by Jan Hein Ribot at Palumeu airfield in March 2006. The collared plover can be found on sandy ground everywhere in Suriname, not only at a beach. More
NOVEMBER NESTING OF THE COLLARED PLOVER CHARADRIUS COLLARIS IN WESTERN MEXICO RALPH S. WIDRIG NOVEMBER NESTING OF THE COLLARED PLOVER Charadrius collaris IN WESTERN MEXICO by Ralph S. Widrig During the winter of 1977-1978, I spent some months in San Bias, Nayarit, Mexico, pursuing the abundant bird life in this remarkable area. More
English: Azara's Ringed Plover, Collared Plover, South American Ringed Plover Spanish: Chorlitejo Collarejo, Chorlitejo de Azara, Chorlito de collar, Chorlo de Collar, Chortilejo Acollarado, Playero collarejo Spanish (Argentine): Chorlito de collar Spanish (Colombia): Chorlitejo Collarejo Spanish (Costa Rica): Chorlitejo Collarejo Spanish (Honduras): Playero collarejo Spanish (Mexico): Chorlitejo Collarejo, chorlo de collar Spanish (Nicaragua): Chorlitejo Collarejo Spanish (Paraguay): Chorlito de collar Spanish (Uruguay): Chorlito de Collar Estonian: värbtüll Finnish: Sepeltylli More
The little Collared Plover is the only small plover that is regularly encountered in Paraguay, being abundant in favourable areas, especially during winter - I counted more than 400 individuals on a single 1km stretch of shoreline of Laguna Campo Maria in July 2006! These plovers are restless creatures, feeding by running and picking at morsels on the surface of mud. They can be quite tame, but show their nervousness by bobbing the head up and down and uttering a peeping call. More
Stamps showing Collared Plover Charadrius collaris Collared Plover Charadrius collaris Collared Plover Charadrius collaris Collared Plover Charadrius collaris Bargain of the day! Collared Plover Links will open countrypage in new window - Grenadines (G) 09.11.1979 Marine wildlife - Grenadines (St V) 11.05.1978 Birds and their eggs - Surinam 10.05. More
Collared Plover - Charadrius collaris Gravelot d'Azara = Gravelot d'Azara Comment : Sûrement une première pour la Martinique - Juillet 2007 - Sainte Marie - MARTINIQUE Gallery : © Vincent Lemoine Order : Charadriiformes Family : Charadriidae Species : Collared Plover Reference: vile35405 Other pictures Date taken : 2007 Geographic data Country : Martinique (mb) More