Caspian Plover
It breeds on open grassland in central Asia, mainly to the north and east of the Caspian Sea. This bird breeds in loose colonies, with three eggs being laid in a ground nest. These birds migrate south in winter to east Africa, usually still on grassland or arable. This plover is a very rare vagrant in western Europe. It is also a rare vagrant to Australia.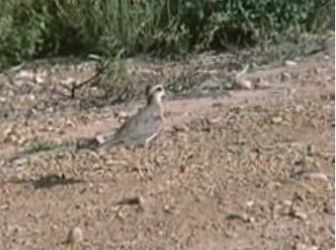 Picture of the Caspian Plover has been licensed under a Creative Commons
Attribution-Share Alike
.
Original source
: Caspian_Plover.ogg
Author
: derivative work: Albval (talk)
The Caspian Plover is classified as Least Concern. Does not qualify for a more at risk category. Widespread and abundant taxa are included in this category.

The Caspian Plover (Charadrius asiaticus) is a wader in the plover family of birds. It breeds on open grassland in central Asia, mainly to the north and east of the Caspian Sea. This bird breeds in loose colonies, with three eggs being laid in a ground nest. These birds migrate south in winter to east Africa, usually still on grassland or arable. This plover is a very rare vagrant in western Europe. It is also a rare vagrant to Australia. More
Caspian plover in breeding plumage, head detail Caspian plover in breeding plumage, head detailPrint factsheet Facts - French: Pluvier Asiatique Kingdom Animalia Phylum Chordata Class Aves Order Charadriiformes Family Charadriidae Genus Charadrius (1) More
The Caspian Plover is one of the species to which the Agreement on the Conservation of African-Eurasian Migratory Waterbirds (AEWA) applies. References 1. BirdLife International (2004). Charadrius asiaticus. 2006 IUCN Red List of Threatened Species. IUCN 2006. Retrieved on 05 May 2006. Database entry includes justification for why this species is of least concern * Marchant, S.; Higgins, P.J.; & Davies, J.N. More
For the purposes of our bird news services, Caspian Plover is classed as Mega: species which have not yet occurred in the British Isles or are exceedingly rare, or are otherwise highly desirable. More
The Caspian plover is a slim, upright bird with long, thin legs which allow it to wade in shallow water, and a black, narrow, pointed bill which allows it to pick small invertebrates from the ground. The plumage of the Caspian plover varies between the sexes. The male has a brilliant white forehead, throat and underparts, which stand out against the sandy-brown upper body and tail (4), and a rusty red breast which is bordered by a narrow, black band (4). More
they chartered planes when an off-course Caspian plover was sighted on a remote Scottish island. The twitchers, as they are known in Britain, managed to reach Fair Isle within hours of the sighting Friday morning, The Scotsman reported. After spending $4,000 per group on planes, they found no sign of the plover anywhere. Deryk Shaw, warden of the Fair Isle Bird Observatory, believes that the plover has gone elsewhere. More
Caspian Plover determination Similar species Charadriidae American Golden Plover | Caspian Plover | Dotterel | Golden-Plover | Greater Sand Plover | Grey Plover | Kentish Plover | Killdeer | Little Ringed Plover | Mongolian Plover | Northern Lapwing | Pacific Golden Plover | Ringed Plover | Semipalmated Plover | Sociable Lapwing | Spur-Winged Lapwing | More
Caspian Plover, Cyprus, Mandria April 2009 © Jim Willson Caspian Plover - Caspian Plover, Cyprus, Mandria April 2009 © Jim Willson Caspian Plover - Caspian Plover, UAE, Dubai Pivot Fields, Dubai 8th May 2009 © Ian Boustead Send this as a postcard Caspian Plover - Caspian Plover, The Netherlands, Texel 18-10-2009 © Jorrit Vlot My website Caspian Plover More
Caspian Plover in one scope view! - 18 october 2009, Den Hoorn, Texel; photo by More
Sightings of Caspian Plover (Charadrius asiaticus) in Little rann of Kutch - Gujarat Written by Arpit N. Deomurari Caspian Plover (Charadrius asiaticus) sighted on 21-01-2007 11.45 AM....Nr. Bajana wetland.....Little rann of Kutch-Gujarat. A possible first record for mainland gujarat. It breeds on open grassland in central Asia, mainly to the north and east of the Caspian Sea. This bird breeds in loose colonies, with three eggs being laid in a ground nest. More