Eurasian Thick-knee
It is a medium-sized wader with a strong yellow and black beak, large yellow eyes , and cryptic plumage. The bird is striking in flight, with black and white wing markings.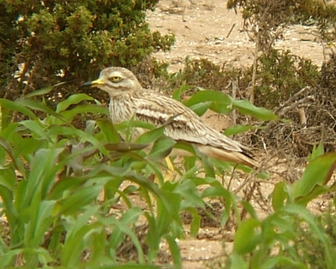 Picture of the Eurasian Thick-knee has been licensed under a
GFDL
Original source
: Burhinus oedicnemus, near Tamri, Morocco, 17 April 2006
Permission
: GNU Free Documentation License
The Eurasian Thick-knee is classified as Least Concern. Does not qualify for a more at risk category. Widespread and abundant taxa are included in this category.

Eurasian Thick-knee Forward | Print | Individual message | Show original | Report this message | Find messages by this author Hello friends, This bewildered juvenile (due to car head lamps) was photographed at the Mahananda WLS on 25.04.2010. - Regards Biswapriya - You received this message because you are subscribed to the Google Groups "delhibirdpix" group. To post to this group, send email to delhibirdpix@googlegroups.com. More
Eurasian Thick-knee Burhinus oedicnemus - At nest Eurasian Thick-knee Photographer : More
Eurasian Thick-knee, Phuttamonton Park, Thailand. August 1st 2009. Use pictures only with the approval from the photographer. Stijn De Win / Birding2asia Copyright More
Eurasian Thick-Knee Show machine tags (0) Hide machine tags (0) Additional Information Attribution Some rights reserved Anyone can see this photo * * Taken with a Nikon D300. More properties * Taken on June 8, 2009 * Viewed 155 times Add to your map Yay location removed ... More
Eurasian Thick-knee Burhinus oedicnemus To take full advantage of Flickr, you should use a JavaScript-enabled browser and install the latest version of the Macromedia Flash Player. Comments view profile J Gilbert Pro User says: An interesting backyard bird. Posted 47 months ago. ( permalink ) view profile Maria Rego Pro User says: Beautiful photo, Shiva. Posted 47 months ago. More
Eurasian Thick-knee calls and scolds, high-pitched and intimidating at times. login or register to post comments | my favorites | Report this file greenlightproductions's picture Nice, keep it up Submitted by greenlightprodu... on Wed, 2010-04-14 18:12. More