Cassin's auklet
The Cassin's Auklet is a small nondescript auk. Its plumage is generally dark above and pale below, with a small white mark above the eye. Its bill is overall dark with a pale spot, and its feet are blue. Unlike many other auks the Cassin's Auklet lacks dramatic breeding plumage, remaining the same over most of the year. At sea it is usually identified by its flight, which is described as looking like a flying tennis ball. The Cassin's Auklet ranges from midway up the Baja California peninsula to Alaska's Aleutian Islands, off North America. It nests on offshore islands, with the main population stronghold being Triangle Island off Vancouver Island's Cape Scott, where the population is estimated to be around 550,000 pairs. It is not known to be migratory, however northern birds may move farther south during the winter.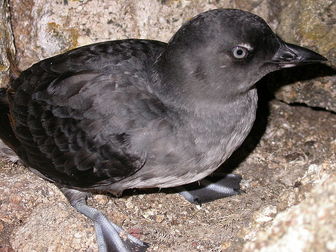 Picture of the Cassin's auklet has been licensed under a
GFDL
Permission
: GNU Free Documentation License
The Cassin's auklet is classified as Least Concern. Does not qualify for a more at risk category. Widespread and abundant taxa are included in this category.

Female Cassin's Auklets (Ptychoramphus aleuticus) were given oral doses of lipophilic and proteophilic dyes during their prelaying period. Yolk ring structure in freshly laid eggs was analyzed to determine the timing of yolk deposition using the dye-stained layer as a date marker within the yolk. More
The Cassin's Auklet is a small (25 cm, 200 g) nondescript auk. Its plumage is generally dark above and pale below, with a small white mark above the eye. Its bill is overall dark with a pale spot, and its feet are blue. Unlike many other auks the Cassin's Auklet lacks dramatic breeding plumage, remaining the same over most of the year. At sea it is usually identified by its flight, which is described as looking like a flying tennis ball. More
Cassin's Auklet: One white egg, blue or green tinted, is laid in a burrow or cavity among rocks. Incubation ranges from 37 to 42 days and is carried out by both parents. Foraging and Feeding Cassin's Auklet: Feeds on small crustaceans and fish. Forages by chasing prey underwater, propelled by its wings. They can dive more than 120 feet below the surface. Vocalization Cassin's Auklet: Gives weak croaking calls at night. More
The Cassin's Auklet is far more abundant than most Pacific Coast alcids, and is found across a wider range. Subsequently, it has been studied more extensively. This seabird comes ashore only during the breeding season. Even then, it is a highly secretive bird that nests underground, and only makes feeding visits to its young under the cover of night. More
At first glance, the Cassin's Auklet is a small, gray bird with few distinguishing characteristics. Viewed more closely, however, certain features are striking. Most notable are the pale eyes and thin white eyebrow markings. At 9 inches in length, weighing 6 ounces, Cassin's Auklet is dark above, and light beneath. The bird's short, thick, gray bill has a pale patch at the base. The wings, which are 15 inches across, are more rounded at the tips than those of most related species. More
* The Cassin's Auklet is named for John Cassin, a Pennsylvania businessman and naturalist. * Unlike many other auks it lacks dramatic breeding plumage, remaining the same over most of the year. At sea it is usually identified by its flight, which is described as looking like a flying tennis ball. More
A small, dark, gregarious seabird, the Cassin's Auklet can be found feeding in flocks and nesting in colonies from Alaska to Mexico. More
unmarked egg of Cassin's auklet is between " ovate " and "elliptical ovate" in shape, ..."Surprise me! See a random page in this book. 11. Product Details Birding Northern California by John Kemper (Paperback - Mar. 1, 1999)Buy new: $18.95 $14.21 8 new from $11.1817 used from $6.00 Get it by Tuesday, May 18 if you order in the next 34 hours and choose one-day shipping.Eligible for FREE Super Saver Shipping. 4.3 out of 5 stars (7) Excerpt - page 271: "... More
The Cassin's Auklet nests in burrows on small islands, and in the southern area of its range may be found in the breeding colony year round. It either digs holes in the soil or uses natural cracks and crevices to nest in, also readily using man-made structures. Pairs will show a strong loyalty towards each other and to a nesting site for many years. More
The Cassin's Auklet is unusual amongst seabirds in occasionally laying a second clutch after a successful first clutch (it is the only northern hemisphere seabird to do so). Cassin's Auklet chick Diet / Feeding At sea Cassin's Auklets feeds offshore, in clear often pelagic water, often associating with bathymetric landmarks such as underwater canyons and upwellings. More
short tail, the Cassin's Auklet is grayish-colored overall, darker above than below. A white spot above each eye is a distinctive field mark. back to top Habitat - Cassin's Auklet is one of the most widespread alcids in the northern Pacific. During the breeding season, they come inland and nest on islands, although during this time many are still found far offshore. More
be Cassin's Auklet Ptychoramphus aleuticus, one of the least known and most rarely seen of B.C. seabirds. Four million Cassin's Auklets live in British Columbia, but they are difficult to see and study because they spend most of their lives on the open ocean. They come ashore only during the nesting season, and even then, they arrive on the colony well after dark and, unless they are incubating eggs or brooding small chicks, return to sea before dawn. More
"The key, if you are a Cassin's auklet, is not so much to raise a chick each year, as to make sure you survive," he says. - - - ALARM RAISED Scientists report thousands of dead Cassin's auklet chicks at two West Coast sites may be linked to climate trends. More
Cassin's Auklet is one of British Columbia's least known and most rarely seen seabirds. More
The Cassin's Auklet is listed as Least Concern; although some populations (principally the Farallon Islands population) have suffered steep declines, overall the species is still numerous. Threats to the auklet include introduced carnivores (particularly in Alaska), oil spills and changes in sea surface temperature (caused by El Ni More
Cassin's Auklet (adult in nest box) Location: Southeast Farallon Island, California Photographer: Shiway Wang Scientific Name: Ptychoramphus aleuticus Common Name: Cassin's Auklet (adult) Location: Southeast Farallon Island, California Photographer: Shiway Wang Scientific Name: More
Cassin's Auklet - Oregon Shore Birds Cassin's Auklet Location in Oregon Blue is Winter range - Red is Summer range Purple is Year-round range - Yellow is Migration range Cassin's Auklet range Cassin's Auklet Ptychoramphus aleuticus - Common, nests in colonies on islands and on isolated coastal cliffs and headlands. Highly pelagic (living in open oceans); usually seen farther from shore than murrelets. More
The Cassin's auklet is a small member of the Alcidae family. The bird weighs less than 200 grams, and is mostly grey-brown with a white belly, white eyebrows and blue feet. It has a short, dark bill with an obscure yellow base. The juvenile looks similar to the adult, but is paler and has a white throat. Like penguins, Cassin's auklets possess the unique ability to "fly" underwater using wings as flippers. More