Northern Potoo
It is a fairly large bird with a length of 38-46 centimetres. It has a long tail, short rounded wings, large head, very short legs and a small bill with a large gape. It is most commonly seen perched motionless in an upright position on branches or posts. The plumage is grey-brown with an intricate pattern of black, grey and cream markings. The cheeks are pale with a dark malar stripe below them. The large eye has a yellow iris which can shine red in light at night. The bird's calls are hoarse and guttural.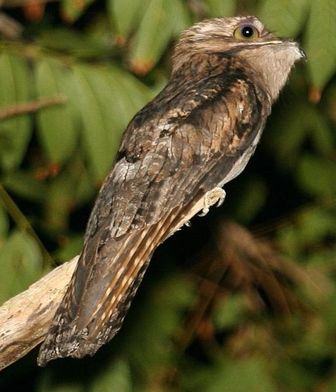 Picture of the Northern Potoo has been licensed under a Creative Commons
Attribution-Share Alike
.
Original source
: dominic sherony
Author
: dominic sherony
The Northern Potoo is classified as Least Concern. Does not qualify for a more at risk category. Widespread and abundant taxa are included in this category.

with the Northern Potoo (Nyctibius jamaicensis, pictured at left), a smaller bird with an altogether different call. Potoos are nocturnal birds related to nightjars. Ecologist Jan Meerman over in Belize's Cayo District, was able to confirm a Great Potoo near his house through both a photo size comparison and vocal recordings. The vocal recordings were subsequently verified via specialists connected with the Cornell Laboratory of Sound. Jan's record has been archived at the BERDS site. More
The Northern Potoo (Nyctibius jamaicensis) is a nocturnal bird belonging to the potoo family, Nyctibiidae. It is found from Mexico south to Costa Rica and on the islands of Jamaica and Hispaniola. It was formerly classified as a subspecies of the Common Potoo (Nyctibius griseus) but is now usually treated as a separate species based on differences in vocalizations. More
For example the Northern Potoo was for a long time considered to be the same species as the Common Potoo, but the two species have now been separated on the basis of their calls. In spite of this there is no morphological way to separate the two species. More
* Northern Potoo, Nyctibius jamaicensis * Andean Potoo, Nyctibius maculosus * Lesser Potoo or Common Potoo, Nyctibius griseus * White-winged Potoo, Nyctibius leucopterus * Rufous Potoo, Nyctibius bracteatus References - 1. More
Northern Potoo - Nyctibius jamaicensis Common Potoo Nyctibius griseus griseus Amazonia Lodge, Madre de Dios department, Peru. Another nesting bird, probably incubating eggs. (D2) Northern Potoo Nyctibius jamaicensis lambi San Blas, Nayarit state, Mexico. This bird is brooding one rather large nestling, making it appear far broader than it really is. That's a loose feather sticking up from its head, not an ear tuft. More
The Northern Potoo is about 40 cm, so based on size, a Northern Potoo (and the most owl species for that matter) could be ruled out. Great Potoo confirmation To get the call confirmed, Mark McReynolds arranged for the original of the recording to be sent to the Cornell Lab of Ornithology Ithaca, New York , USA. More
Northern Potoo Nyctibius jamaicensis Common Potoo Nyctibius griseus Andean Potoo Nyctibius maculosus White-winged Potoo Nyctibius leucopterus Rufous Potoo Nyctibius bracteatus family links Caprimulgiformes - http://www.nmnh.si.edu/BIRDNET/splists/Caprimulgiformescl.html#Aegothelidae List of all related families with species... Nyctibiidae (Potoos) - http://ibc.lynxeds.com/family/potoos-nyctibiidae List etc... More
Northern Potoo jamaicensis Nyctibius jamaicensis jamaicensis (J F Gmelin, 1789) Distribution: Jamaica (Map) Taxon info Pictures On Internet Who X? Dist. References: James F. Clements. More
Northern Potoo Nyctibius jamaicensis = Gomez Farias, Tamaulipas, Mexico - Mar 24, 2007 More
See the Northern Potoo right down below "here" on top of the branch in the middle. It took me about 2 minutes to find it when I was 8 feet away. I was excited. Click here to get back to San Blas trip information. More
Northern Potoo - Nyctibius jamaicensis Ibijau jamaïcain = Ibijau jamaïcain La vie des oiseaux Gallery : © Manuel Grosselet Site web : tierradeaves Order : Caprimulgiformes Family : Nyctibiidae Species : Northern Potoo Age : Immature Plumage : First year year Reference: magr24431 Other pictures Date taken : 2006 Geographic data Country More
Got a looks at the Northern Potoo, but no pictures in focus. Focus on a camera does not work at night when it is pitch black. Breakfast to order (eggs, ham, fruite, and coffee plus fresh orange juice) was served at the appointed time by our host. Magie finished serving and then we placed our dinner and set a time. Our evening on the deck of drinks, guacamole, melted cheese, and toastodos completed the order. More
for Northern Potoos, but we realized that our timing was wrong and we would probably need to take this trip again on another day, preferably returning after dark to search for potoos. Nevertheless, the trip was very enjoyable, gliding through mangrove tunnels, with crocodiles lurking in the shadows and Green Kingfishers flushing ahead of us. Deep in the mangroves, the boat coasted to a stop and the boatman began drawing our attention to something in the branches right above our heads. More
Northern Potoo, Nyctibius jamaicensis Nyctibiidae (POTOOS) Northern Potoo, Nyctibius jamaicensis This photo was taken in: Costa Rica This photo was taken with: Nikon Coolpix 995 handheld to a leica APO scope with 32x lens The photo was taken by: Steve Bird , Birdseekers Costa Rica Report 512 Secies in two weeks! Birdseekers Tour reports Birdwatching Holidays around the world More
Northern Potoo, Nyctibius jamaicensis Nyctibiidae (POTOOS) Northern Potoo, Nyctibius jamaicensis This photo was taken in: Jamaica The photo was taken by: Paul Noakes , Birdtours.co. More
Northern Potoo is now on the list and the ID of this recording has been adapted. © 2005-2010 Xeno-canto Foundation. Colophon & credits | Terms of use | Contact National Museum of Natural History Naturalis University of Leeds BirdLife International Van Tienhoven Foundation for International Nature Protection African Bird Club All recordings are copyrighted by their recordists and appear here under a Creative Commons Attribution-NonCommercial-NoDerivs 2.5 License. More