Planalto Hermit
It is usually easily recognized by its relatively large size, broad white tips to all the rectrices, and cinnamon-buff underparts and rump – the latter contrasing clearly with its tail and remaining upperparts.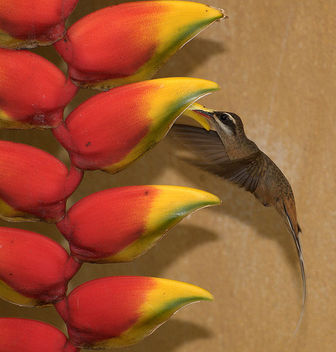 Picture of the Planalto Hermit has been licensed under a Creative Commons
Attribution-Share Alike
.
Original source
: RABO-BRANCO-ACANELADO (Phaethornis pretrei )
Author
: Dario Sanches from SÃO PAULO, BRASILOther versionsDerivative works of this file:
The Planalto Hermit is classified as Least Concern. Does not qualify for a more at risk category. Widespread and abundant taxa are included in this category.

The Planalto Hermit (Phaethornis pretrei) is a species of bird in the Trochilidae family, the hummingbirds. It is found in eastern and south-central Brazil, eastern Bolivia, Paraguay, and marginally in north-western Argentina. It is usually easily recognized by its relatively large size, broad white tips to all the rectrices, and cinnamon-buff underparts and rump – the latter contrasing clearly with its tail and remaining upperparts. More
* Planalto Hermit, Phaethornis pretrei * Scale-throated Hermit, Phaethornis eurynome * Pale-bellied Hermit, Phaethornis anthophilus * White-bearded Hermit, Phaethornis hispidus * White-whiskered Hermit, Phaethornis yaruqui * Green Hermit, Phaethornis guy * Tawny-bellied Hermit, Phaethornis syrmatophorus More
Planalto Hermit (Phaethornis pretrei) (Lesson & Delattre, 1839) summary taxon grid map Wikipedia NatureServe Google: Web|Scholar ITIS Birdlife Google|Flickr Xeno-Canto - photo: Celi Aurora Photo powered by flickr.com. More
Planalto Hermit (Phaethornis pretrei) taken in Serrinha do Alambari, Rio de Janeiro State, Brazil Camera: Olympus E-3 Camera statistics Camera specifications Full review (20th February, 2008) Submitted: Sunday, 26th July, 2009 16:36 (GMT) Taken: Saturday, 11th April, 2009 Focal length: Shutter speed: Aperture: ISO: 500 Lens: More
Planalto Hermit - Phaethornis pretrei - Rabo-branco-acanelado = Planalto Hermit Next in Series - Prior - Series Home Top All contents Copyright More
Planalto Hermit (Phaethornis pretrei) = French: Ermite de Prêtre German: Zimtroter Schattenkolibri Spanish: Ermitaño del Planalto Taxonomy: Trochilus Pretrei Lesson and DeLattre, 1839, Minas Gerais, Brazil. Forms superspecies with P. augusti. Proposed races "garleppi" and "pallidiventris" based on aberrant specimens; schwarti (Bahia) and minor (N Goiás, S Maranhão) based on individual variation. Monotypic. Distribution: Bolivia, N Argentina and Paraguay to Brazil S of Amazonian rainforest area. More
Planalto Hermit Phaethornis pretrei = Described by: Lesson; DeLattre (1839) Alternate common name(s): None known by website authors Old scientific name(s): None known by website authors Photographs Chapada Diamantina, Bahia, Brazil - Jul, 2002 More
Planalto Hermit Phaethornis pretrei = Serrinha do Alambari, Resende, Rio de Janeiro, Brazil - Apr 24, 2007 More
Planalto Hermit Phaethornis pretrei = * Home Expand Log in Menu item Register Menu item Log out Menu item Change login details Menu item Why register? Expand UK & Ireland Menu item Birding sites More
Planalto Hermit (Phaethornis pretrei) Chapada Diamantina, Bahia, Brazil - July 2002 © Arthur Grosset Planalto Hermit (Phaethornis pretrei) Chapada Diamantina, Bahia, Brazil - July 2002 © Arthur Grosset Planalto Hermit (Phaethornis pretrei) Chapada Diamantina, Bahia, Brazil - July 2002 © Arthur Grosset Planalto Hermit (Phaethornis pretrei) Chapada Diamantina, Bahia, Brazil - July More
Planalto Hermit is not found in Misiones, Argentina, so that adds to the confusion. next (Scaly-headed Parrot) last first previous (Savanna Hawk) Scale-throated Hermit Copyright and usage info: My photos are free to use for non-commercial purposes only, provided that you retain the birdphotos.com imprint or visibly display © http://www.birdphotos.com with the image. For Internet usage, a link to http://www.birdphotos.com is required. I would also like to know where the image is being used. More