White-necked Jacobin
Other common names are Great Jacobin and Collared Hummingbird.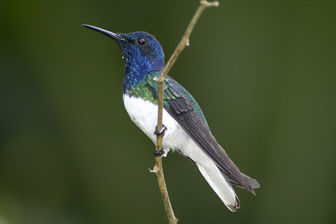 Picture of the White-necked Jacobin has been licensed under a Creative Commons
Attribution
.
Original source
: originally posted to Flickr as White-necked jacobin
Author
: Brian GratwickePermission(Reusing this file)This image, which was originally posted to Flickr.com, was uploaded to Commons using Flickr upload bot on 19:06, 15 February 2010 (UTC) by Snowmanradio (talk). On that date it was licensed under the license below.This file is licensed under the Creative Commons Attribution 2.0 Generic license.You are free:to share – to copy, distribute and transmit the work
The White-necked Jacobin is classified as Least Concern. Does not qualify for a more at risk category. Widespread and abundant taxa are included in this category.

The White-necked Jacobin (Florisuga mellivora) is a large and attractive hummingbird that ranges from Mexico south to Peru, Bolivia and south Brazil. It is also found on Tobago and in Trinidad, but breeding has not been proved on the latter island. Other common names are Great Jacobin and Collared Hummingbird. The White-necked Jacobin is a widespread inhabitant of forest, usually being seen at a high perch or just above the canopy. It is less common at lower levels, except near hummingbird feeders. More
White-Necked Jacobin Hummingbird on Flower Nectar, Rancho Naturalista, Costa Rica Photographic Printzoomhttp://imagesource5d.allposters.com/watermarker/30-3066-H2IDF00Z.jpg?ch=671&cw=894Note - The watermark below ("AllPosters") will not appear on the artwork itself. More
White-Necked Jacobin Hummingbird Perched on Branch, Rancho Naturalista, Costa Rica = by Cindy Miller Hopkins - Item #: 31829121@USD Photographic Print 12 x 9 in3182912Usually ships in 1-2 days $24.99True@FalseTrue1Falsehttp://img.allposters.com/6/lrg/30/3066/92IDF00Z.jpg300400 Digitally Printed on Archival Photographic Paper resulting in vivid, pure color and exceptional detail that is suitable for museum or gallery display.http://imagesource5d.allposters.com/watermarker/30-3066-92IDF00Z.jpg?ch=671&cw=89416 x 12 in3182912Usually ships in 1-2 days $29.99True@FalseTrue1Falsehttp://img.allposters.com/6/lrg/30/3066/92IDF00Z. More
The approximately 12 cm long male White-necked Jacobin is unmistakable with its white belly and tail, a white band on the nape and a dark blue hood. Immature males have less white in the tail and a conspicuous rufous patch in the malar region. Females are highly variable, and may resemble adult or immature males, have green upperparts, white belly, white-scaled green or blue throat, and white-scaled dark blue crissum, or be intermediate between the aforementioned plumages, though retain the white-scaled dark blue crissum. More
The plumage of female white-necked jacobins is highly variable; a female may have the same plumage as a male, and only be distinguished by its longer bill and shorter wings and tail, or it may differ from the male by having blue-green on the breast, a dull white belly, and a mostly green tail with a dark blue tip (2). Both the male and female have black feet and a straight black bill (2) (6). More
For the purposes of our bird news services, White-necked Jacobin is classed as Common: common species, including species that are certain or probable escapees from captivity when occurring in the British Isles. (Note that rarity levels are currently applied nationally and may not reflect local variations in abundance. More
White-necked Jacobin aproaching a feeder at the Panama Rainforest Discovery Center. More
These White-necked Jacobins (and Green-breasted Mangoes in the back) photographed in Costa Rica in 2002. Sony All my writing, images, videos, and sound recordings are copyrighted More
White-necked Jacobin videos on the Internet Bird Collection Picture of White-necked Jacobin Stamps with RangeMap White-necked Jacobin photo gallery VIREO Didn't find what you were looking for. Need more information for your travel research or homework? Ask your questions at the forum about Birds of Bolivia or help others to find answers. This article is licensed under the GNU Free Documentation License. More
White-necked Jacobin by Gualberto107 on flickr.com Beautiful hummingbird from the rain-forest of Panama. Tags: Nature, Environment, Endangered Species, tree, bird, Wildlife, birding, Farming, World, Climate Change, blue, Rainforest, AVIAN, white, feathers, branch, wings, PANAMA, small, hummingbird, beak, birdwatching, perched, necked, jacobin Photo PropertiesNP! ID: 2037350Title: White-necked JacobinFile Size: 500 × 357 – 69. More
The White-necked Jacobin is named after the Jacobin order of European monks, who wore a distinctive cap. The white feathers on the neck and belly contrast strongly with the dark iridescent head, and present an exposure challenge. This bird was frozen in flight using multiple high-speed flash. Ektachrome 100VS Canon EOS 3, EF 70-200 mm f/2. More
White-necked Jacobin Hummingbird, female feeding on nectar, Costa Rica Copyright © Richard Mittleman/RSPCA - All Rights Reserved Please Note: Any white borders on the above preview may also appear on the final print. More
A rare visitor from lower elevations, the male White-necked Jacobin is unmistakable with its white belly and tail. Females are a bit more cryptic. The speckled green underparts and white tail tips are shared with the female Green-crowned Brilliant, but that species has a white moustachial stripe and a straighter bill. Some young Andean Emeralds have speckling extending across their breast, but it is never as heavy as in the Jacobin and they usually have a pink base to the bill. More
The White-necked Jacobin (Florisuga mellivora) is a large and attractive hummingbird that ranges from Mexico south to Peru, Bolivia and south Brazil. It is also found on Tobago and in Trinidad. The White-necked Jacobin is a widespread inhabitant of forest, usually being seen at a high perch or just above the canopy. The approximately 12 cm long male White-necked Jacobin is unmistakable with its white belly and tail, a white band on the nape and a dark blue hood. More
White-Necked Jacobin Hummingbirds in Costa Rica The White-necked Jacobin (Florisuga mellivora) is a large and attractive hummingbird that ranges from Mexico south to Peru, Bolivia and south Brazil. It is also found on Tobago and in Trinidad, but breeding has not been proved on the latter island. Other common names are Great Jacobin and Collared Hummingbird. More
The White-necked Jacobin is a widespread inhabitant of forest, mostly at higher elevations, being seen usually at a high perch or just above the canopy. It is less common at lower elevations. The White-necked Jacobin (Florisuga mellivora) is a large and attractive hummingbird that ranges from Mexico south to Peru, Bolivia and south Brazil. It is also found on Tobago and in Trinidad, but breeding has not been proved on the latter island. More
male white-necked jacobin, suriname, colibri jacobin Photo of a nectar eating male white-necked jacobin, made by Foek Chin Joe on the Brownsberg in August 2003. The white in its neck can be seen in the picture below, made by the same photographer. Females and young are dull, scaly below. It also eats insects and can been seen everywhere in Surinam. More