Purple-throated Carib
It breeds on Antigua, Dominica, Guadeloupe, Martinique, Montserrat, Saba, Saint Kitts and Nevis, Saint Lucia, Saint Vincent and Sint Eustatius. It has occurred as a vagrant in Barbados, Barbuda, Grenada and the Virgin Islands.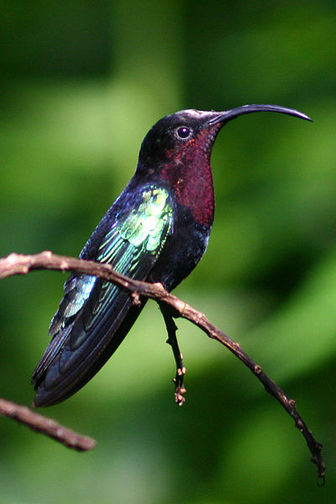 Picture of the Purple-throated Carib has been licensed under a Creative Commons
Attribution
.
Original source
: Own work
Author
: Charlesjsharp
The Purple-throated Carib is classified as Least Concern. Does not qualify for a more at risk category. Widespread and abundant taxa are included in this category.

A female purple-throated carib isn't just interested in the plumage of a male hummingbird. She also wants to know what he owns. Good looks and a nice personality are secondary. PHOTO A female purple-throated carib is shown in this file photo.A female purple-throated carib is shown in this file photo. (Courtesy Ethan Temeles) In what is believed to be a unique relationship in the world of birds, a male purple-throated carib doesn't just protect his own territory. More
of hummingbirds I studied the Purple-throated Carib, Eulampis jugularis, during the breeding and nonbreeding seasons on the island of Dominica, British West Indies. I also made incidental observations on the Green-throated Carib, Seri- cotes holosericeus. I found that both species, which are sexually monomorphic in color, are territorial around certain flower species and that females of both species hold territories during the nonbreeding season. The relationships of the sexes and of the territories held were somewhat different than for Panterpe (Wolf 1969). More
Purple-throated Carib at Batalie Bay, Dominica Conservation status Least Concern (IUCN 3.1) Scientific classification Kingdom: Animalia Phylum: Chordata Class: Aves Order: Apodiformes Family: Trochilidae Genus: Eulampis Species: E. More
case with Purple-throated Carib (Eulampis jugularis; Temeles and Clark 2003, Temeles et al. 2005, 2006). This species is dominant over the substantially smaller Antillean Crested Hummingbird, which it may aggresively chase from flowers (Lack 1973, Wolf 1975). Apparenly, the two Eulampis are specialized sufficiently to coexist with minimal competition for resources, indlucing flowers and arthopods (Askins et al. 1987). Green-throated Carib feeds side-by-side with Bananaquit (Askins et al. 1987) without agreesive interaction. Predation No information. More
purple-throated carib strongly suggests that the process of coevolution (the evolution of two or more species that interact closely with one another, with each species adapting to changes in the other) is the cause of this fit between the birds and the flowers. Furthermore, this process is strongly reinforced by the fact that the different energy requirements of the male and female carib are uniquely matched by the energy rewards in the nectar of their respective heliconia flowers. More
Purple-throated Carib Eulampis jugularis = * Home Expand Log in Menu item Register Menu item Log out Menu item Change login details Menu item Why register? Expand UK & Ireland Menu item Birding sites More
Stamps showing Purple-throated Carib Eulampis jugularis Purple-throated Carib Eulampis jugularis Purple-throated Carib Eulampis jugularis Purple-throated Carib Eulampis jugularis Purple-throated Carib Eulampis jugularis Purple-throated Carib Eulampis jugularis Purple-throated Carib Eulampis jugularis Purple-throated Carib Eulampis jugularis Purple-throated Carib Eulampis jugularis Purple-throated Carib Eulampis jugularis Purple-throated Carib Eulampis jugularis Purple-throated Carib Eulampis jugularis Purple-throated Carib Eulampis jugularis Purple-throated Carib Eulampis jugularis Purple-throated Carib More
best interest of male purple-throated caribs to defend and maintain a territory with a high density of nectar-producing flowers. Why? Because it is the quality of this territory-rather than flashy plumage or elaborate courtship displays-that attracts the most females. John Kress, a botanist at the Smithsonian's National Museum of Natural History, and Ethan Temeles, an ornithologist and biology professor at Amherst College in Massachusetts, have spent several years researching purple throated caribs (Eulampis jugularis) in the wild on the island of Dominica. More
* Purple-throated Carib (Eulampis jugularis) Photo by Greg Lasley Photography: "The Purple-throated Carib (Eulampis jugularis) is an attractive resident of the Lesser Antilles." cover A Field Guide to Hummingbirds of North America (Peterson Field Guides) Google Copyright 2004 Finchworld, Inc. More
The Purple-throated Carib (Eulampis jugularis) is an attractive resident of the Lesser Antilles. It is a large, dark hummingbird which can be somewhat difficult to photograph (at least for me!) since it often stays in the shade. The throat of this bird glows a deep purple when the light hits it just right. More
Purple-throated Carib Eulampis jugularis = Described by: Linnaeus (1766) Alternate common name(s): Purple Carib, Purple-breasted Carib, Garnet Hummingbird, Red-breasted Hummingbird Old scientific name(s): None known by website authors Photographs Deshaies, Guadeloupe - Dec 29, 2001 More
purple-throated caribs to defend and maintain a territory with a high density of nectar-producing flowers. Why? Because it is the quality of this territory - rather than flashy plumage or elaborate courtship displays - that attracts the most females. More
Purple-Throated Carib (Eulampis jugularis ) Name in French: Colibri Madère Local names: many local variants exist, including variations of Madè, Fou-fou, Fal-wouj, Doctor Bird, Ruby-throat, etc. Most local names are shared with other hummingbirds. The Purple-Throated Carib is a large, beautifully colored hummingbird found on most islands of the Lesser Antilles. This species in endemic to this area, which means that it is not found outside the Lesser Antilles. More