Blue-headed Hummingbird
It is found only in Dominica and Martinique.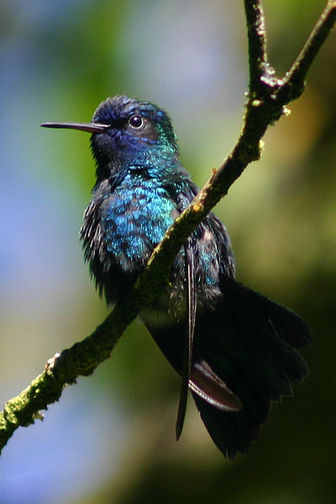 Picture of the Blue-headed Hummingbird has been licensed under a Creative Commons
Attribution
.
Original source
: Charlesjsharp
Author
: Charlesjsharp
The Blue-headed Hummingbird is classified as Least Concern. Does not qualify for a more at risk category. Widespread and abundant taxa are included in this category.

The Blue-headed Hummingbird (Cyanophaia bicolor) is a species of hummingbird in the Trochilidae family. It is found only in Dominica and Martinique. Its natural habitats are subtropical or tropical moist lowland forests and heavily degraded former forest. References - * BirdLife International 2004. Cyanophaia bicolor. 2006 IUCN Red List of Threatened Species. Downloaded on 10 July 2007. More
The Blue-headed Hummingbird (Cyanophaia bicolor) is a species of hummingbird in the Trochilidae family. It is found only in Dominica and Martinique. Its natural habitats are subtropical or tropical moist lowland forests and heavily degraded former forest. More
Male Blue-headed Hummingbird FD20 View Next Item » Review this item Review this item Click to send this page through emailShare this Page with a friend Send as e-card Click for Printer Friendly VersionPrinter Friendly Version Water Color on Old Urdu Paper, Manual Calligraphy on both sides 5.0" X 8.5" Price: $75. More