Magenta-throated Woodstar
The 9 cm long, 3.5 g weight male Magenta-throated Woodstar is unmistakable with its magenta throat separated by a white collar from the green chest and flanks. The back is green and the belly is rufous. There are white rump patches, and the black-tipped tail is long and forked.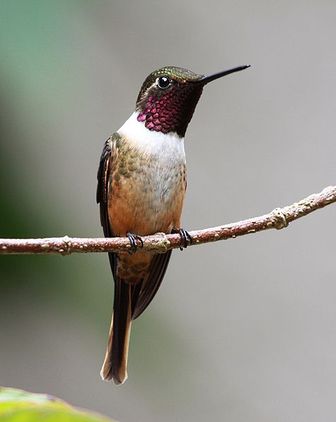 Picture of the Magenta-throated Woodstar has been licensed under a
GFDL
Original source
: BasarCamera location
Author
: BasarCamera location
Permission
: GNU Free Documentation License
The Magenta-throated Woodstar is classified as Least Concern. Does not qualify for a more at risk category. Widespread and abundant taxa are included in this category.

The Magenta-throated Woodstar (Calliphlox bryantae) is an attractive hummingbird that is a resident breeder in forest edge and scrub in Costa Rica and western Panama. Its nest is undescribed. The 9 cm long, 3.5 g weight male Magenta-throated Woodstar is unmistakable with its magenta throat separated by a white collar from the green chest and flanks. The back is green and the belly is rufous. There are white rump patches, and the black-tipped tail is long and forked. More
I took this photograph of a Magenta-throated Woodstar in Costa Rica in March 1996. More
Magenta-throated Woodstar (Calliphlox bryantae) is an attractive hummingbird that is a resident breeder in forest edge and scrub in Costa Rica and western Panama. Copyright Info AnimmalPicturesArchive.com does not have the copyright for this image. This photograph or artwork is copyright by the photographer or the original artist. If you are to use this photograph, please contact the copyright owner or the poster. More
View all pictures of Magenta-throated Woodstar View all pictures of Magenta-throated Woodstar show section External Links (0) We currently have no external links for this species. More