Blue-chested Hummingbird
The Blue-Chested Hummingbird is a species of hummingbird in the Trochilidae family. It is found in Colombia, Costa Rica, Ecuador, Nicaragua, and Panama. Its natural habitats are subtropical or tropical moist lowland forests and heavily degraded former forest.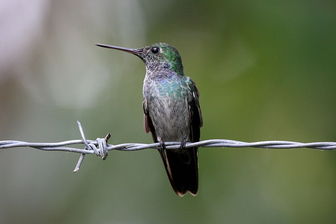 Picture of the Blue-chested Hummingbird has been licensed under a Creative Commons
Attribution-Share Alike
.
Original source
: originally posted to Flickr as Blue-chested Hummingbird
Author
: Dominic SheronyPermission(Reusing this file)This image, which was originally posted to Flickr.com, was uploaded to Commons using Flickr upload bot on 18:54, 21 April 2010 (UTC) by Howcheng (talk). On that date it was licensed under the license below. This file is licensed under the Creative Commons Attribution-Share Alike 2.0 Generic license.You are free:to share – to copy, distribute and transmit the work
The Blue-chested Hummingbird is classified as Least Concern. Does not qualify for a more at risk category. Widespread and abundant taxa are included in this category.

The Blue-Chested Hummingbird (Amazilia amabilis) is a species of hummingbird in the Trochilidae family. It is found in Colombia, Costa Rica, Ecuador, Nicaragua, and Panama. Its natural habitats are subtropical or tropical moist lowland forests and heavily degraded former forest. References - * BirdLife International 2004. Amazilia amabilis. 2006 IUCN Red List of Threatened Species. Downloaded on 10 July 2007. More
Get Blue-chested Hummingbird Wallpaper in seconds! - Plus, get 20 credits now and 10 more each month, $9.99/month - choose from 771,000 downloads Incorrect phone number. Please enter phone number in the format "123 456 7890" Cell Phone: Enter your 10-digit phone number Please enter your email address. Incorrect email address. Email Address: We value your privacy and will not sell or rent your email address to third parties. More
Blue-chested Hummingbird Polyerata amabilis = Described by: Gould (1853) Alternate common name(s): Lovely Hummingbird, Blue-chested Emerald, Blue-breasted Hummingbird Old scientific name(s): Amazilia amabilis Photographs Semaphore Hill Road, Soberania National Park, Panama - Jan 18, 2004 More
Blue-chested Hummingbird Polyerata amabilis = Canopy Tower Lodge, Panama - Dec, 2000 More
The Blue-Chested Hummingbird (Amazilia amabilis) is a species of hummingbird in the Trochilidae family. It is found in Colombia, Costa Rica, Ecuador, Nicaragua, and Panama. Its natural habitats are subtropical or tropical moist lowland forests and heavily degraded former forest. More
Blue-chested hummingbird, p, Canopy tower may-june o5 © MARTIN SMYTH canon20D 400 is Blue-chested hummingbird - Blue-chested Hummingbird, Panama, Soberania National Park April 2006 © Jeff Hazell A female (digibino-photo) Send this as a postcard Blue-chested Hummingbird - Blue-chested Hummingbird, Panama, Soberania National Park April 2006 © Jeff Hazell A female (digibino-photo) Send this as a postcard More
* Blue-chested Hummingbird, a bird in the Trochilidae family * Blue-chested Parakeet, a bird in the Psittacidae family Disambig gray.svg This disambiguation page lists articles associated with the same title. If an internal link led you here, you may wish to change the link to point directly to the intended article. Retrieved from "http://en.wikipedia. More
XC20964 :: Blue-chested Hummingbird (Amazilia amabilis amabilis) = Recording data Recordist Roger Ahlman Date 03-06-2008 Time 17:20 Country Ecuador Location Ricaute road, San Lorenzo, Esmeraldas Longitude not specified Latitude not specified Elevation 50 m More