Crested Treeswift
The Crested Treeswift is a common resident breeder from the Indian subcontinent east to Thailand. It was formerly considered conspecific with its eastern relative, the Grey-rumped Treeswift , but they do not interbreed where their ranges overlap.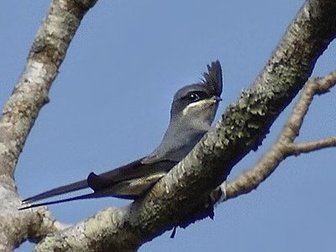 Picture of the Crested Treeswift has been licensed under a
GFDL
Original source
: photograph by Kousik Nandy
Author
: Kousik NandyPermission(Reusing this file)GFDL and CC-BY-SA
Permission
: GNU Free Documentation License
The Crested Treeswift is classified as Least Concern. Does not qualify for a more at risk category. Widespread and abundant taxa are included in this category.

The Crested Treeswift (Hemiprocne coronata) is a kind of tree swift. The tree swifts are aerial near passerine birds, closely related to, but distinct from the true swifts. They are restricted to southeast Asia and Australasia. The Crested Treeswift is a common resident breeder from the Indian subcontinent east to Thailand. It was formerly considered conspecific with its eastern relative, the Grey-rumped Treeswift (Hemiprocne longipennis), but they do not interbreed where their ranges overlap. More
Crested Treeswift Hemiprocne coronata - Female on nest Crested Treeswift Photographer : More
The Crested Treeswift (Hemiprocne coronata) is a kind of tree swift. The tree swifts are aerial near passerine birds, closely related to, but distinct from the true swifts. They are restricted to southeast Asia and Australasia. More
Crested Treeswift (Hemiprocne coronata) is a widespread resident in India. More