Collocalia spodiopygia
The White-rumped Swiftlet is a species of swift in the Apodidae family.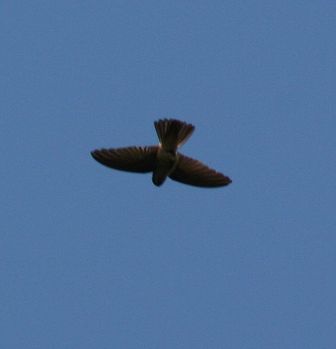 Picture of the Collocalia spodiopygia has been licensed under a
GFDL
Original source
: Duncan Wright
Author
: Duncan Wright
Permission
: GNU Free Documentation License
The Collocalia spodiopygia is classified as Least Concern. Does not qualify for a more at risk category. Widespread and abundant taxa are included in this category.

Collocalia spodiopygia townsendi Oberholser, 1906, is antedated by C. unalasch- kensis unalaschkensis (Gmelin), 1789 R 3 Phalacrocorax albiventer (Lesson), 1831, is antedated by Ph. cirrhatus (Gmelin), 1789 R 7 Ducula aurorae (Peale), 1848, is antedated by D.forsteri (Wagler), 1829 P 7 Treron curvirostra smicra Oberholser, 1912, is antedated by T. curvirostra curvi- rostra (Gmelin), 1789 G 13 Gallicolumba stairi (Gray), 1850, is antedated by G. eimeensis (Gmelin), 1789 L 13 Procelsterna cerulea (Bennett), 1840, is antedated by/. More
White-rumped Swiftlet Collocalia spodiopygia (B): Common on Manus and New Ireland and sparse this time in lowland New Britain. The birds do seem very much darker than the Queensland form so maybe the split of that form is justified? Glossy Swiftlet Collocalia esculenta: Common in the hills and lowlands, and also on Manus and New Ireland. Many of the Manus birds have white rumps. Papuan Spine-tailed Swift Mearnsia novaeguineae: Quite common in the Kiunga area. More
white-rumped swiftlets Collocalia spodiopygia common across the entire South Pacific and for which the many Swallow's Caves are named, are everywhere. There are various fruit doves and crowned doves, the barn owl Tyto alba, the blue crowned lorikeet Vini australis, the red-breasted musk parrot Prosopeia tabuensis and numbers of other species. More