Crested Shelduck
The Crested Shelduck or Korean Crested Shelduck, Tadorna cristata, is a species of bird in the family Anatidae. It is critically endangered and believed by some to be extinct. The male Crested Shelduck has a greenish-black crown, breast, primaries, and tail, while the rest of its face, chin, and throat are brownish black. The male's belly, undertail coverts, and flanks are a dark grey with black striations. The upper wing coverts are white, while its speculum is an iridescent green. The female has a white eye ring, black crest, white face, chin, throat, neck, and uppers wing coverts and a dark brown body with white striations. Both sexes also have a distinctive green tuft of feathers protruding from the head.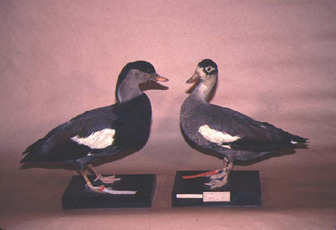 Picture of the Crested Shelduck has been licensed under a
GFDL
Original source
: Own work
Author
: Kevin Deacon
Permission
: GNU Free Documentation License
The Crested Shelduck is classified as Critically Endangered (CR), facing an extremely high risk of extinction in the wild.

Area from which the Crested Shelduck is known; current range unknown Synonyms Pseudotadorna cristata Kuroda, 1917 The Crested Shelduck or Korean Crested Shelduck, Tadorna cristata, is a species of bird in the family Anatidae. It is critically endangered and believed by some to be extinct. The male Crested Shelduck has a greenish-black crown, breast, primaries, and tail, while the rest of its face, chin, and throat are brownish black. More
The Crested Shelduck is an elusive species of bird that belongs to the Anatidae family. Very little is actually known about the Crested Shelduck which is mostly down to very limited observations of the species and although currently listed as critically endangered many believe that the Crested Shelduck may be extinct. The only reason that the Crested Shelduck is not listed extinct is because of a handful of sightings over the years up until present day. More
The Crested Shelduck or Korean Crested Shelduck, Tadorna cristata, is a species of bird in the duck family. It is critically endangered and believed by some to be extinct. The male Crested Shelduck has a greenish-black crown, breast, primaries, and tail, while the rest of its face, chin, and throat are brownish black. The male's belly, undertail coverts, and flanks are a dark grey with black striations. The upper wing coverts are white, while its speculum is an iridescent green. More