Flightless Steamerduck
This species is locally infamous for the aggressive disposition of adult males. Incidents have allegedly occurred where a raging male was placed by a misguided collector among adults of various other waterfowl species and killed all the other birds with their powerful, spurred wings.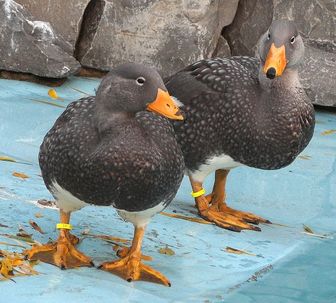 Picture of the Flightless Steamerduck has been licensed under a
GFDL
Original source
: Own work
Author
: SarefoI, the copyright holder of this work, hereby publish it under the following licenses:Permission is granted to copy, distribute and/or modify this document under the terms of the GNU Free Documentation License, Version 1.2 or any later version published by the Free Software Foundation; with no Invariant Sections, no Front-Cover Texts, and no Back-Cover Texts. A copy of the license is included in the section entitled GNU Free Documentation License.www.gnu.org/copyleft/fdl.htmlGFDLGNU Free Documentation Licensetruetrue
Permission
: GNU Free Documentation License
The Flightless Steamerduck is classified as Least Concern. Does not qualify for a more at risk category. Widespread and abundant taxa are included in this category.

Flightless Steamerduck Mandarin Duck Chiloe Wigeon Gadwall Speckled Teal Common Mallard Mottled Duck American Black Duck Crested Duck Crested Duck Northern Pintail Yellow-billed Pintail White-cheeked Pintail Puna Teal Blue-winged Teal Cinnamon Teal Red Shoveler Northern Shoveler Red-crested Pochard Common Pochard Common Pochard Ring-necked Duck Tufted Duck Tufted Duck Common Eider Long-tailed Duck Barrow's Goldeneye Hooded Merganser Common Merganser Accipitridae * Osprey * More
There were groups of Flightless Steamerducks in the area. One duck got way behind the flock and had to run across the water honking to catch-up. We also saw Mom's with baby chicks. We checked-out the gardens in town. We never knew there were so many colors of Lupines. The locals call them totems – as in Totem Pole. We also watched Dolphin Gulls carry mollusks to the sidewalk and eat them. More
Male Flightless Steamerduck stretchingJuvenile Black-crowned Night Heron Juvenile Black-crowned Night HeronMale Flightless Steamerduck Male Flightless SteamerduckFemale Kelp Goose in flight Female Kelp Goose in flightImperial Shag approaching #2 Imperial Shag approaching #2Imperial Shag approaching Imperial Shag approachingMale Upland Goose Male Upland GooseFemale Upland Goose Female Upland Goose © K M Images | created at www.mrsite. More
yesterday as Flightless Steamerduck but there was no sign of the Barn Swallow. Among the now familiar species, Margaret and Roger saw Chiloe Wigeon on a wind-swept Long Pond, as did Cindy and Ian. The Silvery Teal were under attack from a Kelp Gull during the day and Roger described how the adults were springing up to five feet from the water to ward off the intruder while the ducklings dived out of the way, coming up in a tight bunch between their parents. More
Flightless Steamerduck, Chile, South of Punta Arenas November 2008 © Sam Woods/Tropical Birding Tropical Birding Chile Report 2008 Flightless Steamerduck - Showing Records 1 through 1 of 1 Total Records More