Comb Duck
The Knob-billed Duck , or Comb Duck, is an unusual, pan-tropical duck, found in tropical wetlands in sub-Saharan Africa, Madagascar and south Asia from Pakistan to Laos and extreme southern China. It also occurs in continental South America south to the Paraguay River region in eastern Paraguay, southeastern Brazil and the extreme northeast of Argentina, and as a vagrant on Trinidad.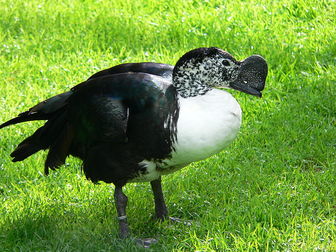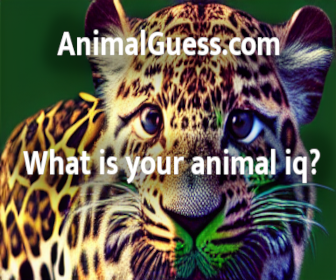 Picture of the Comb Duck has been licensed under a
GFDL
Original source
: Own work
Author
: BS Thurner Hof
Permission
: GNU Free Documentation License
The Comb Duck is classified as Least Concern. Does not qualify for a more at risk category. Widespread and abundant taxa are included in this category.

The Knob-billed Duck (Sarkidiornis melanotos), or Comb Duck, is an unusual, pan-tropical duck, found in tropical wetlands in sub-Saharan Africa, Madagascar and south Asia from Pakistan to Laos and extreme southern China. It also occurs in continental South America south to the Paraguay River region in eastern Paraguay, southeastern Brazil and the extreme northeast of Argentina, and as a vagrant on Trinidad. It is the only known species of the genus Sarkidiornis. More
The Old world Comb Ducks have a black bill with a comb on two-thirds of it. The comb is so prominent that it can be seen even while the duck is in flight. The male comb duck has a wingspan that varies from 347 to 384mm and the females wingspan varies from 273 to 300mm. Males are about double the size of the female. During breeding season the males comb will become larger than normal. Females have a black bill but do not have a comb. More
* Comb Duck (Sarkidiornis melanotos sylvicola) from South America Smaller; flanks darker (black in males, medium grey in females) Male Knob-billed Duck Female Knob-billed Duck Female Comb Duck Uncertainty surrounds the correct systematic placement of this species. Initially, it was placed in the dabbling duck subfamily Anatinae. More
extinct "Mauritian Comb Duck" is based on misidentified remains of the Mauritian Shelduck (Alopochen mauritianus); this was realized as early as 1897 but the mistaken identity can still occasionally be found in recent sources. Knob-billed or Comb Duck (Sarkidiornis melanotos)Description and systematics This common species is unmistakable. Adults have a white head freckled with dark spots, and a pure white neck and underparts. More
Comb Duck (Sarkidiornis melanotos) = Comb Duck - Comb Duck Enlarge Breed Club Secretary Ducks come under the brief of: More
Comb Ducks commonly roost on the ground along neotropical rivers, and they may associate with other waterfowl. Drake South American Comb Duck 185 - These pages and images are provided for your personal viewing only. Copyright More
Comb duck (Sarkidiornis melanotos) = Species information - * Facts & Status * Description * Range & Habitat * Biology * Threats & Conservation * Find out more * Glossary & References * All * More
The comb duck is so called because the male has a round knob on top of the bill, which is particulary prominent in the breeding season (the word comb can mean the comb you use for your hair but also has a number of meanings relating to a crest). These large distinctive ducks are blue-black on the back, white on the front, and the head is white overlaid by black speckles. More
Old World Comb Duck (Sarkidiornis melanotos sylvicola) * Named for the fatty comb atop the drake's bill * Inhabits the tropics of both the Old and New Worlds * Commonly perches in trees and typically nests in cavities 20-30' above the ground. More
Images Comb duck in flight, side view The goose-like comb duck gets its common name from the large, fleshy, dark grey growth or 'comb' on the top of the male's black beak, an unusual and distinctive structure which enlarges during the breeding season. Male comb ducks ... More
Comb Duck elsewhere on the web * Wikipedia * http://www.itis.gov/... Edit and Show details Add or delete facts, download data in JSON or RDF formats, and explore topic metadata. Freebase Logo What is Freebase? Freebase is a huge collection of facts, built by people like you. Freebase connects facts in ways other sites can't, giving you new ways to explore millions of subjects. More
Comb duck - Definition = Comb Duck Scientific classification Kingdom: Animalia Phylum: Chordata Class: Aves Order: Anseriformes Family: Anatidae Genus: Sarkidiornis Species: melanotos Binomial name Sarkidiornis melanotos More
Comb ducks are named for the prominent, leaf-shaped comb atop the male's bill. The comb is fleshy and reduced in size for much of the year, but enlarges prior to breeding season. 2. This African duck tends to migrate long distances, occasionally traveling more than 2,200 miles! 3. Old World comb ducks perch in trees, clinging with their strong claws to vertical tree trunks like monstrous woodpeckers! 4. More
Presence in India : Comb Duck is mainly found in the Northern parts of India especially in the state of Haryana. It can also be spotted in the Sultanpur, Manas, Batla and Corbett national parks. Habitat : Comb duck prefers fresh water swamps and lakes in tropical lowlands. They live in places away from the human settlement. Diet : Comb duck feeds on grass seeds, frogs, grain, shoots, aquatic vegetation, invertebrates and small snails. More
Comb Duck has the breeding season during July to September. In India, there is a report of nest building in the old nest of the vulture, the old niche, and the soil cliff. It lays 7 to 15 light beige eggs. More
Comb Ducks live in lakes, ponds, rivers and swamps in wooded country of lowlands in East and Central Africa. BEHAVIOR: Whistling Ducks were named for their unique whistling call. Pairs of them often face one another and indulge in mutual preening. They have broad wings and are powerful fliers. Cape Teal are nocturnal birds, tend to keep to themselves, and spend much time ashore. Comb Ducks are highly mobile. More
Comb Ducks will wade in shallow waters and graze on grass or aquatic vegetation. They will also eat seeds, invertebrates (primarily locusts and aquatic insect larvae) and occasioinally small fish. They can also be pests to rice farmers. Reproduction Old World Comb Ducks will only breed in the southern Africa during and after the rainy summer season between December and March. During years of little rain the ducks will not breed at all. More
The African Comb Duck is native to Africa, Asia and South America. Their backs are dark with violet, bronze, purple and green coloring. Their heads, breasts and wings are gray with small black spots over the head and neck and their bills are black. Male African Comb Duck More
The African Comb Duck has been honored on at least ten African stamps. More
Collared Sunbird Comb Duck Comb-crested Jacana Common Black Hawk Common Bronzewing Common Bulbul Common Buzzard Common Crane Common Eider Common Fiscal Common Gallinule Common Grackle Common Ground Dove Common Guillemot Common Gull Common Hawk-cuckoo Common Merganser Common Myna Common Nighthawk Common Paraque Common Pochard Common Poorwill Common Quail Common Raven Common Redpoll Common Redshank Common Redstart Common Rosefinch Common Scoter Common Shelduck Common Snipe Common Starling Common Swift Common Teal Common Tern Common Tody-flycatcher Common Woodshrike Common Yellowthroat Condor Congo More
The comb duck is a fairly large perching duck with a body-weight of 1.3 to 2.6 kg in males and 0.9 to 2.4 kg in females. Comb ducks perch in trees, clinging with their strong claws to vertical tree trunks like monstrous woodpeckers! They nest in tree cavities about 6-9 meters above the ground or within holes in the walls of buildings. This species, as with other tree ducks, practices dump nesting where several females lay their eggs in one nest. More
Comb Duck (Sarkidiornis melanotos) = ID Features: 1. Comb on the upper mandible 2. Freckles on head and neckComb Duck (Sarkidiornis melanotos) by Gaurav Bhatnagar. Comb Duck or "Nakta" as called locally in India. It is a common resident duck in India. This picture was taken some 30km before Mount Abu coming from Jaipur. Full trip report at : birdingindia.blogspot.com/ This photo has notes. Move your mouse over the photo to see them. More