Fulvous Whistling Duck
The Fulvous Whistling Duck is a common but wary species. It is largely resident, apart from local movements, but vagrancy has occurred to southern Europe. It nests on a stick platform in reeds, laying 8-12 eggs, but hollow trees or old bird nests are occasionally used for nesting.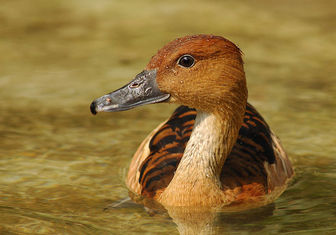 Picture of the Fulvous Whistling Duck has been licensed under a Creative Commons
Attribution-Share Alike
.
Original source
: Own work
Author
: Branko Kannenberg
The Fulvous Whistling Duck is classified as Least Concern. Does not qualify for a more at risk category. Widespread and abundant taxa are included in this category.

The Fulvous Whistling Duck, Dendrocygna bicolor, is a whistling duck which breeds across the world's tropical regions in much of Central and South America, Sub-Saharan Africa, the Indian subcontinent, and the Gulf Coast of the United States. The Fulvous Whistling Duck is a common but wary species. It is largely resident, apart from local movements, but vagrancy has occurred to southern Europe. More
Fulvous Whistling Duck is a common but wary species. It is largely resident, apart from local movements, but vagrancy has occurred to southern Europe. Breeding / Nesting: It nests on a stick platform in reeds, laying 8-12 eggs, but hollow trees or old bird nests are occasionally used for nesting. Description: The Fulvous Whistling Duck is 48–53 cm (19–21 in) long. More
The fulvous whistling duck (Dendrocygna bicolor) is a rare visitor to Alabama, but its distinctive physical characteristics allow for easy identification. The population of the fulvous whistling duck is estimated at just over one million birds. Although the fulvous whistling ducks of North America breed only in Texas, California, Louisiana, and Florida, they are occasionally seen throughout Alabama and have been seen as far north as British Columbia and Nova Scotia. More
The Fulvous Whistling Duck is 48-53cm long. It has a long grey bill, long head and longish legs, buff head and underparts, the latter reddish-tinged on the flanks, a dark crown, and dark grey back and wings. The tail and wing patches are chestnut, and there is a white crescent on the upper tail which is visible in flight. All plumages are similar, except that juveniles have less contrasted flank and tail colouration. More
DISTRIBUTION: Fulvous whistling ducks are found worldwide from Burma, India to eastern Africa as well as South America, Mexico and California, Texas, Louisiana and Florida of North America. They will breed in southeast Texas and southwest Louisiana and migrate along the Gulf to Mexico. In Alabama, small numbers of fulvous whistling ducks may be observed along the Gulf coast. Habitat: During the breeding season, fulvous whistling ducks prefer to nest in rice fields or in dense vegetation over or near water. More
Breeding: In North America, fulvous whistling ducks can be found breeding in southern California, southwestern Arizona, central and eastern Texas, the Gulf Coast of Louisiana to central Mexico, and locally in Florida. Over most of its range in Texas and Louisiana, the fulvous whistling duck prefers to nest in rice fields on low contour levees or over shallow water among rice plants, cut-grasses, Paspalum, and cattails. Clutch size averages from 12 to 13 eggs and both male and female incubate and participate in brood rearing. More
The Fulvous Whistling Duck, also known as the Tree Duck, is the most commonly seen member of its genus in captivity. They are found on four continents: North and South America, Africa and Asia, yet there are no known subspecies. They often form very large groups, sometimes with other whistling duck species where ranges overlap. The sexes are similar, with males being somewhat larger and having a different call than the hens. Vent sexing is the best method to distinguish the two. More
Fulvous Whistling Duck as a "pest" species which damages rice crops. Population shifts may be due to rice-farming practices. Further Information: 1) USGS Patuxent Bird Identification InfoCenter, Fulvous Whistling Duck 2) Cornell University's "All About Birds - Fulvous Whistling Duck" 3) eNature.com: Fulvous Whistling Duck 4) Whatbird. More
The fulvous whistling duck actually is more closely related to geese than to ducks. Fulvous whistling ducks have long legs and necks, which leads to a distinct profile when flying. When seen standing, they look more goose-like than duck-like. Male and female fulvous whistling ducks look alike, the head, chest and belly are tawny-brown and the wings and back are darker brown. They have a silvery border between the belly and wings formed by white tipped feathers and a blue-gray bill. More