Whooper Swan
The Whooper Swan is similar in appearance to the Bewick's Swan. However, it is larger, at a length of 140-160 cm , a wingspan of 205-275 cm and a weight range of 8–20 kg . It has a more angular head shape and a more variable bill pattern that always shows more yellow than black .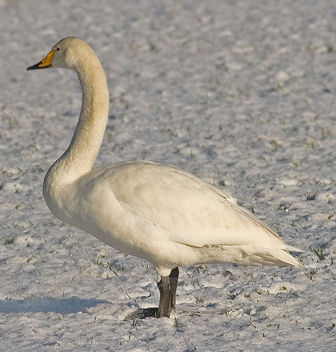 Picture of the Whooper Swan has been licensed under a Creative Commons
Attribution-Share Alike
.
Original source
: Own work
Author
: Andreas TreptePermission(Reusing this file)This photo was taken by Andreas Trepte.Please credit this photo Andreas Trepte, www.photo-natur.de.
The Whooper Swan is classified as Least Concern. Does not qualify for a more at risk category. Widespread and abundant taxa are included in this category.

The Whooper Swan (Cygnus cygnus) is a large Northern Hemisphere swan. It is the Eurasian counterpart of the North American Trumpeter Swan. More
The Whooper Swan (Cygnus cygnus) is a large Northern Hemisphere swan. It is the Eurasian counterpart of the North American Trumpeter Swan. Contents * 1 Description * 2 Distribution and behaviour * 3 Other information * 4 References * 5 Further reading Description - The Whooper Swan is similar in appearance to the Bewick's Swan. More
The Whooper Swan has an an enormous range reaching up to around 10 million square kilometers. This bird can be found in many areas of Asia, the Middle East, Europe, the UK, and has vagrant populations in Northern Africa as well. This species appears in inland wetlands and lakes as well as in arable or farming regions also. The global population of this bird is estimated to be around 180,000 individual birds. More
The whooper swan is a large white swan, bigger than a Bewick's swan. It has a long thin neck, which it usually holds erect, and black legs. Its black bill has a large triangular patch of yellow on it. It is mainly a winter visitor to the UK from Iceland, although a couple of pairs nest in the north. The estuaries and wetlands it visits on migration and for winter roosts need protection. Its winter population and small breeding numbers make it an Amber List species. More
At the same time two Whooper Swans were ringed HUA and HUC, we also fitted the male bird (plastic ring code HUC, right leg) with a satellite transmitter. There is a small group going back this August, which includes myself, to catch some more Bewick's and if we get funds we hope to go also in summer 2005. As an up date Dr.Eileen Rees rote this a few weeks ago : "We have not yet completed analysing the data from the expedition. More
A pair of whooper swans in flight through fog over water Whooper swans are large migratory bird that often fly in large 'V' formations. They can be distinguished from Bewick swans by their larger size, and from mute swans by their yellow bill colour. What do they sound like? - 1. More
mute swan, trumpeter swan, and whooper swan, can reach length of over 1.5 m (60 inches) and weigh over 15 kg (33 pounds). Their wingspans can be almost 3 m (10 ft). Compared to the closely related geese they are much larger in size and have proportionally larger feet and necks. They also have a patch of unfeathered skin between the eyes and bill in adults. The sexes are alike in plumage, but males are generally bigger and heavier than females. More
Whooper swans require large areas of water to live in, especially when they are still growing, because their body weight cannot be supported by their legs for extended periods of time. The whooper swan spends much of its time swimming, straining the water for food, or eating plants that grow on the bottom. Whooper swans have a deep honking call and, despite their size, are powerful fliers. More
A young Whooper Swan, taken at Castle Espie WWT, Co.Down, Northern Ireland. I took this shot in an already dark background & burnt it out more in PS. Cat-Art & Irishphotographer - Photographic & Art images - DOUBLEVISION. www.doublevision-images.com/ www.redbubble.com/people/doublevision To take full advantage of Flickr, you should use a JavaScript-enabled browser and install the latest version of the Macromedia Flash Player. More
* Listen to a Whooper Swan (RSPB site) The noisiest of the Swans - deep honking calls when in flight (Bewick's Swans are usually silent) * Similar birds: Bewick's Swan (rare here), Mute Swan Whooper swans pair for life, and their cygnets stay with them all winter; family groups sometimes include offspring from previous years. More
in danger because of flocks of whooper swans which migrate from Iceland to live near the runways at Glasgow airport during the winter.FRIGHT PATH; EXCLUSIVE Airport chiefs fear swans could cause repeat ... More
My very first sighting of whooper swans was at the head of Breydon Water. Ice, which had sealed the estuary for days, was finally breaking. Great floes jostled against each other piling up to form miniature icebergs. Photo shows Whooper Swan (centre) with Mute Swan (left) The scene became complete when a V-formation of whoopers flying very high arrived from the direction of the sea before planing down onto the newly exposed muds. More
The whooper swan is a large type of waterfowl, whose adults reach lengths of up to 140cm, with wings as long as 60cm each. While their bodies are predominantly white, some feature yellowish markings on the head and neck. There are no color differences distinguishing males and females, but cygnets younger than one year old are gray with brownish streaks, the area around the top of the beak a pinkish white. More
Whooper Swan (Cygnus cygnus) is a large Northern Hemisphere swan. It is the Old World counterpart of the North American Trumpeter Swan. Whooper is similar in appearance to the Bewick's Swan. However, it has a larger, longer with a more angular head shape and with a more variable bill pattern that always shows more yellow than black (Bewick's Swans have more black than yellow). Their breeding habitat is wetland. More
Whooper swans selected for the project has made history on the epic journey from Iceland's southern coast to the west coast of Ireland.Superwhooper by Green PlacesAircraft could be in danger because of flocks of whooper swans which migrate from Iceland to live near the runways at Glasgow airport during the winter.FRIGHT PATH; EXCLUSIVE Airport chiefs fear swans could cause repeat ... More
Whooper Swan at The Farm The Whooper Swan is similar in appearance to the Bewick's Swan. However, it is larger, at a length of 140-160 cm (55-63 in), a wingspan of 205-275 cm (81-110 in) and a weight range of 8–20 kg (17.6-44 lbs). It has a more angular head shape and a more variable bill pattern that always shows more yellow than black (Bewick's Swans have more black than yellow). More
* Whooper swans in Lake Kussharo - Japan1:37 * Ajouter à la file d'attente Ajoutée à la file d'attente Whooper swans in Lake Kussharo - Japan1909 vuessquiverphototrips * Russian snowgeese on Lulu Island0:48 * Ajouter à la file d'attente Ajoutée à la file d'attente Russian snowgeese on Lulu More
whooper swanns Show machine tags (0) Hide machine tags (0) Additional Information All rights reserved Anyone can see this photo * * Taken on September 13, 2009 * Viewed 262 times Add to your map Yay location removed ... (Some formats are OK. More
satellite tracking project of Whooper Swans has recently begun, and they will be tracked from their breeding grounds in Iceland to their wintering grounds in Britain and Ireland. Whooper Swan 13.jpg Whooper Swan 16.jpg Whooper Swans (juv). More
Whooper Swan on Pondsbury, Lundy Island 1/4/07 Category: * Animals , * Travel and Vacations Keyword Tags: * swan , * island , * Lundy , * Whooper Total Plays: 192 Added: Apr 2, 2007 Comments: 0 Close X Video Details Close X More
adult Whooper Swans, west of Burnham Market (Norfolk, UK), 11th January 2007 Whooper Swan, Stanhoe, 2-Feb-07 Whooper Swan, Burnham Market, 11-Jan-07 Whooper Swan, Stanhoe (Norfolk, UK), 2nd February 2007. Whooper Swan, west of Burnham Market (Norfolk, UK), 11th January 2007. These two photos show the same bird. Presumably the brownish markings in the wings are a sign of immaturity although it seems too white to be a first-winter. More
The whooper swan is a winter visitor to Britain. Its common name refers to the loud 'whooping' calls that it produces (5). This large white swan tends to hold its neck erect whilst swimming (3). In spring and summer, some adults may develop rusty 'stained' plumage on the neck and head caused by the iron-rich water on which they live (6). More
Whooper Swans have been recorded migrating at altitudes up to 8,200m where the ambient temperature is -40C. More
Since spring 1998 181 Whooper Swans were ringed in the German wintering areas and 22 cygnets on the breeding grounds in the Spreewald (East Germany). The birds at the wintering grounds were caught with cannonnets. To increase the number of reports 199 birds were marked with yellow neckcollars. Up to now 5.500 observations of 305 observers were received. One swan was found dead after a collision with a power-line in Germany in the 1999-2000 season. More
Whooper swan pair with cygnets on water© David Tipling / www.davidtipling.com Whooper swan family feeding on frozen fenland© David Tipling / naturepl.com Juvenile whooper swan© Mike Read Juvenile whooper swan preening© Mike Read Juvenile whooper swan flying over water© John Cancalosi / naturepl.com Close up of the head of a whooper swan © Laurie Campbell / lauriecampbell. More
A young Whooper Swan at Frazier's Aviaries The Whooper is the Old World cousin of the Trumpeter Swan, breeding across the entire northern Palearctic. It is distinguised from Bewick's Swan by its larger size and the yellow bill with a black tip. It is the noisiest of all the swans, constantly calling "hoo, hoo, hoo" while in flight. Unlike the Mute Swan, it tends to carry its neck stiffly erect. More
The Gray Whooper Swan is one of the largest in the collection of Oiva Toikka Birds More