Blue-winged Goose
The Blue-winged Goose is a waterfowl species which is endemic to Ethiopia. It is the only member of the genus Cyanochen.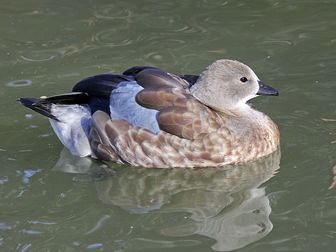 Picture of the Blue-winged Goose has been licensed under a
GFDL
Original source
: Own work
Author
: DickDaniels (http://carolinabirds.org/)
Permission
: GNU Free Documentation License
The Blue-winged Goose is classified as Vulnerable (VU), considered to be facing a high risk of extinction in the wild.

A Blue-winged Goose at Baltimore Zoo having a drink of water Conservation status Vulnerable (IUCN 3. More
The blue-winged goose is classified as Vulnerable (VU) on the IUCN Red List (1). Description - The blue-winged goose can be a hard bird to spot when it is on the ground, a grey-brown shape against a brown, marshy background; but when this bird takes off, the large powder-blue patch on its wings makes it unmistakable (3). More
Blue-winged goose© Martin Harvey / www.nhpa.co.uk Group of blue-winged geese© Jean-Paul Chatagnon / Biosphoto Pair of blue-winged geese near edge of water© Martin Harvey / www.nhpa.co.uk Blue-winged geese swimming© Natasha Breed / naturepl.com Blue-winged goose swimming on surface of water© David Hosking / www.flpa-images.co.uk Blue-winged goose pair in flight© www.flpa-images.co.uk Blue-winged goose calling© www.flpa-images.co. More
Blue-winged Goose, Swanton Morley, 9-Jun-07 Blue-winged Goose, Swanton Morley, 9-Jun-07 escaped Blue-winged Goose, Swanton Morley (Norfolk, UK), 9th June 2007 Blue-winged Goose, Swanton Morley, 6-May-07 Blue-winged Goose, Swanton Morley, 6-May-07 Blue-winged Goose, Swanton Morley, 6-May-07 Blue-winged Goose, Swanton Morley, 6-May-07 escaped Blue-winged Goose, Swanton Morley (Norfolk, UK), 6th May 2007 Blue-winged Goose, Swanton Morley, 02-Jun-04 Blue-winged Goose, Swanton Morley, 02-Jun-04 escaped Blue-winged Goose, More
The Blue-winged Goose is endemic to Ethiopia and Eritrea where it is found in highland areas usually in pairs in pools, streams, marshes and adjacent grassland. The striking blue upper wing coverts are visible in flight. The photographs are of two different pairs of birds a few miles apart on the Sululta plains. More
Blue-winged GeeseThe Blue-winged Goose (Cyanochen cyanoptera) is a waterfowl species which is endemic to Ethiopia. It is the only member of the genus Cyanochen. Relations The relations of this species among the waterfowl is unresolved. It is morphologically close to shelducks, and particularly the South American sheldgeese, which have highly similar courtship displays. More
Abyssinian blue-winged goose is a member of the Anatidae family and there are two species. The species are Cyanochen (dark blue goose) and cyanopterus (dark blue feathers). The blue-winged goose belongs to the phylum of Chordata, the class of Aves and the order of Anseriformes. Abyssinia which is the historical name for Ethiopia is where the Abyssinian part of the name for the blue-winged goose comes from. Their closest relative is thought to be the Andean Goose. More
The Blue-winged Goose (Cyanochen cyanoptera) is a Waterfowl species which is endemic to Ethiopia. It is the only member of the genus Cyanochen. Contents - * 1 Relations * 2 Description * 2. More
The blue-winged goose has an odd habit of resting their necks on their backs, which makes them a very amusing and unique read more * 3 of 5 by L. More
The Blue-winged Goose (Cyanochen cyanopterus) is a large goose, which is endemic to Ethiopia. pets No blue-winged goose pets yet! pictures No blue-winged goose pictures yet! videos No blue-winged goose videos yet! owners No blue-winged goose owners yet! blogs No blue-winged goose blogs yet! This article is licensed under the GNU Free Documentation License. More
The blue-winged goose is a medium-sized sheldgoose with a body weight of about 1.5 kg. 4-9 creamish-coloured eggs are laid and incubated for 30-34 days by the female alone. The blue-winged goose is a largely nocturnal species. More
The Blue-winged goose is endemic to Ethiopia (found only in Ethiopia); in fact, its closest living relative is found in South America. The goose is named for its bluish wing-patches which the male likes to display when he is courting a female. It lives in plateau marshes and streams from 1,800 meters (6,000 feet) upward and apparently is most active at night. This goose has a peculiar habit, whether standing or walking, of resting its neck on its back. More
The Blue-winged Goose (Cyanochen cyanoptera) is a large , which is endemic to Ethiopia. It is the only member of the genus Cyanochen. Placement of this species in the waterfowl phylogeny is unresolved; while it is morphologically closest to shelducks and resembles sheldgeese in habitus, mtDNA sequence analyses of the cytochrome b and NADH dehydrogenase subunit 2 genes1] indicates that it might belong to a very distinct and ancient "duck" clade, perhaps together with Hartlaub's Duck. More
Blue-winged Goose, Ethiopia, Addis Ababa October 2006 © Nik Borrow Seen well on the Birdquest Ethiopia 2006 tour Birdquest See more photos on my website Nik Borrow Send this as a postcard Blue-winged Goose - Blue-winged Goose, Ethiopia, Bale Mountains 23/12/08 © Aidan G. More
For the purposes of our bird news services, Blue-winged Goose is classed as Common: common species, including species that are certain or probable escapees from captivity when occurring in the British Isles. (Note that rarity levels are currently applied nationally and may not reflect local variations in abundance. More