Pink-footed Goose
It is a medium-sized goose, 60–75 cm long, the wingspan 135–170 cm, and weighing 1.8–3.3 kg. It has a short bill, bright pink in the middle with a black base and tip, and pink feet. The body is mid grey-brown, the head and neck a richer, darker brown, the rump and vent white, and the tail grey with a broad white tip. The upper wing-coverts are of a somewhat similar pale bluish-grey as in the Greylag Goose, and the flight feathers blackish-grey. The species is most closely related to the Bean Goose Anser fabalis , sharing a similar black-and-coloured pattern bill, but differing in having pink on the bill and legs where the Bean Goose is orange, and in the paler, greyer plumage tones. It is similar in size to the small rossicus subspecies of Bean Goose, but distinctly smaller than the nominate subspecies fabalis. It produces a medley of high-pitched honking calls, being particularly vocal in flight, with large skeins being almost deafening.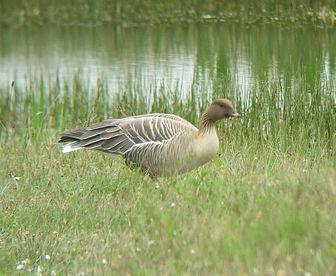 Picture of the Pink-footed Goose has been licensed under a
GFDL
Original source
: Own work
Author
: MPF
Permission
: GNU Free Documentation License
The Pink-footed Goose is classified as Least Concern. Does not qualify for a more at risk category. Widespread and abundant taxa are included in this category.

The Pink-footed Goose (Anser brachyrhynchus) is a goose which breeds in eastern Greenland, Iceland and Svalbard. It is migratory, wintering in northwest Europe, especially Great Britain, the Netherlands, and western Denmark. The name is often abbreviated in colloquial usage to Pinkfoot (plural Pinkfeet). It is a medium-sized goose, 60–75 cm long, the wingspan 135–170 cm, and weighing 1.8–3.3 kg. It has a short bill, bright pink in the middle with a black base and tip, and pink feet. More
For the purposes of our bird news services, Pink-footed Goose is classed as Common: common species, including species that are certain or probable escapees from captivity when occurring in the British Isles. (Note that rarity levels are currently applied nationally and may not reflect local variations in abundance.) hide section Most recent UK and Irish reports of Pink-footed Goose 08:50 07/05/10 Pink-footed Goose Outer Hebrides Ardivachar Point, S. More
The Pink-footed Goose population overwintering in Norfolk has been increasing for many years now and reached an all-time high of over 150,000 in December 2004. Changes in EU funding policy have affected sugar-beet growers in Norfolk and as a result the species favourite food is likely to become harder to find in future, so it is quite possible that these numbers may begin to fall again now. More
The Pink-footed Goose is one of the species to which the Agreement on the Conservation of African-Eurasian Migratory Waterbirds (AEWA) applies. Copyright: Wikipedia. This article is licensed under the GNU Free Documentation License. It uses material from Wikipedia.org - Diet / Feeding: Ducks and geese generally feed on larvae and pupae usually found under rocks, aquatic animals, plant material, seeds, small fish, snails and crabs. More
in the project of Greater White-fronted Geese, 1 Pink-footed Goose was ringed with a yellow Bean Goose neckband (code: 5U9). This bird was paired with a Tundra Bean Goose (code: 5U8) and seen several times in flocks of Bean Geese in Eastern Germany. Please send sighting data to the Bean Goose coordinator. - Take a look at the Pink-footed Geese www.pinkfoot.net from Per Ivar Nicolaisen. - Remark: one pink-foot has been blue-neckbanded (V-49), an adult male. More
The Pink-footed Goose is one of the species to which the Agreement on the Conservation of African-Eurasian Migratory Waterbirds (AEWA) applies. Telling av hvitkinngås I uke 19 (10. - 16. mai) oppfordres alle til å telle hvitkinngås! Rapporter via artsobservasjoner.no. Tellingene kjøres samtidig med tellinger i overvintringsområdet ved Solway-bukta i grensen SV-Skottland/NV-England. For mer info, kontakt Paul Shimmings (shimmy@online. More
The pink-footed goose is a medium-sized goose, smaller than a mute swan but bigger than a mallard. It is pinkish grey with a dark head and neck, a pink bill and pink feet and legs. This species does not breed in the UK, but large numbers of birds spend the winter here, arriving from their breeding grounds in Spitsbergen, Iceland and Greenland. Numbers in England are on the increase, particularly in Norfolk, probably due to better protection at winter roosts. More
The Pink-footed Goose has an enormous range estimated at 100,000 to 1,000,000 square kilometers. This bird can be found in the UK, Belgium, Czech Republic, Denmark, Finland, France, Germany, Greenland, Iceland, Ireland, Netherlands, Norway, Romania, Svalbard and Sweden. It prefers a grassland, pastureland and marine locations, including tide pools and rocky shoreline. The global population of this bird is estimated to be around 280,000 individual birds. More
Flycatcher | Pink-footed Goose | Pintail | Ptarmigan | Puffin | Raven | Razorbill | Red Kite | Red-breasted Merganser | Red-footed Falcon | Red-throated Diver | Redshank | Redwing Thrush | Reed Bunting | Ringed Plover | River Warbler | Robin | Rock Pipit | Ruddy Duck | Ruff | Sandwich Tern | Shag | Shelduck | Shore Lark | Shoveler | Siskin | Skylark | Smew | Song Thrush | Sparrowhawk | Spoonbill | Spotted Flycatcher | Spotted Redshank | Spotted Sandpiper | Starling | Stonechat | More
A Pink-footed Goose at a local reservoir and a skein in flight over the region. Photos by David Barker. More
"This Pink-footed Goose was grazing with Greylag Geese, on the seeded land above East Loch Roag, a favourite Greylag haunt. Mostly the bird remained slightly apart from the Greylag group... The light was poor at the time and it was a fair way off, it's markings were not strong, but I could see the lovely bluish-grey - I thought it an juvenile bird at first, but decided later that it was adult. More
Browse: Home / Trips / Last Bird of 2008: Pink-footed Goose in Queens Last Bird of 2008: Pink-footed Goose in Queens - By Corey • January 3, 2009 • 7 comments On the very last day of 2008 I braved the cold, wind, and icy precipitation to get one last bird for my Anti-Global Warming Big Year, and the last bird was a doozy. The Pink-footed Goose is a vagrant in North America, and should be somewhere in Europe right now. More
vues bogabirder — 11 juin 2007 — Flock of Pink-footed Goose at Berlevag, Norway. bogabirder — 11 juin 2007 — Flock of Pink-footed Goose at Berlevag, Norway. More
Pink-footed Goose: Native of Greenland found mainly in open tundra and rocky country. Rare accidental to Newfoundland and northern Altantic Coast. Breeding and Nesting Pink-footed Goose: Three to five creamy white eggs, incubated for 26 to 27 days by the female in a shallow scrape on the ground lined with moss and down. Foraging and Feeding Pink-footed Goose: Eats grass and aquatic vegetation in summer. More
Pink-footed goose captured in 2004. Marked with neck collar B6K and equipped with 30 g satellite transmitter attached with knicker elastic. Photo: Christian M. Glahder Pink-footed goose captured in 2004. Marked with neck collar B6V and equipped with 45 g satellite transmitter with solar panel attached with teflon ribbon. Photo: Christian M. More
Pink-footed Goose Pink-headed Duck Pink-headed Fruit Dove Pinyon Jay Piping Plover Plain Mountain Finch Plover Plum-headed Parakeet Plumbeous Vireo Plumbeous Water-redstart Plumed Whistling Duck Polynesian Triller Pomarine Skua Prairie Warbler Prothonotary Warbler Ptarmigan Puaiohi Puerto Rican Nightjar Purple Finch Purple Honeycreeper Purple Martin Purple Sunbird Purple Swamphen Purple-gaped Honeyeater Purple-rumped Sunbird Pygmy Nuthatch Pyrrhuloxia Radjah Shelduck Razorbill Red Goshawk Red Kite Red Knot Red Lory Red Munia Red Pharalope Red Shoveler Red Siskin Red Turtle Dove Red Wattlebird Red-backed Fairy-wren Red-backed More
About: Pink-footed Goose is one of our smaller geese, with a relatively short neck, rounded head and short bill. A common winter visitor, numbers of Pink-footed Geese are at an all time high thanks to conservation work both here and on the breeding grounds. A la How to identify: A small goose, with a short bill and pink legs. Where: Only found here in the winter. More
Pink-footed Goose breeds in Greenland, Iceland and Svalbard. It winters in northwest Europe, especially Great Britain. Here large flocks graze on farmland, particularly in Norfolk, The Fens, Aberdeenshire and Lancashire. The word 'anser' comes from Latin meaning goose and 'brachyrhynchus' is a reference to the shortness of the bill. Earliest: November 29th 1988 at Littleton Warth. Latest: February 26th 1996 at Aust/ Northwick Warth. Highest Count: Seven on February 1st 1940 at Severn Beach. More
The pink-footed goose is the largest of the three species of geese that nest in Svalbard. It has grey-brown plumage and generally looks similar to the small bean goose (A. fabalis), but pink-footed geese have a shorter neck and bill and pink legs. They are 60-75 cm long and weigh 2.200-2.7 kg. The sexes look virtually identical. The pink legs can be difficult to see at a distance or in poor light. More
The Pink-footed goose (Anser brachyrhynchus) is quite a large bird slightly larger than a Canada goose (Branta canadensis) and like all geese belongs to the order Anseriformes or waterfowl. Identification The eponymously named Pink-footed goose relates to its striking pink feet that help to tell it apart from its similar looking relative, the Bean Goose (Anser fabalis). More
thousands of Pink-footed Goose leave the safety of Loch Leven to feed in the surrounding countryside. I wasn't disappointed although many of the skeins that flew off in no particular direction throughout the forenoon were distant. More
Why the pink-footed goose is a CO2 villain = Could this bird really have a worse carbon footprint than a patio heater? * Digg it * Buzz up * Share on facebook * Tweet this * Comments (…) * David Adam * More