Campbell island teal
The Campbell Island Teal is a small, flightless, nocturnal species of dabbling duck of the genus Anas endemic to the Campbell Island group of New Zealand. It is sometimes considered conspecific with the Brown Teal. The plumage is similar to that of the Auckland Teal, dark sepia with the head and back tinged with green iridescence, and a chestnut breast on the male, with the female dark brown all over. Its natural habitat is tussock grassland dominated by Poa tussock grass, ferns and megaherbs. The species also uses the burrows and pathways of petrel species that nest on the islands. They are apparently territorial in the wild, and probably feed on amphipods and insects.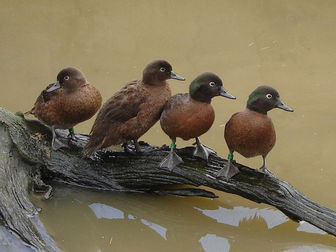 The Campbell island teal is classified as Critically Endangered (CR), facing an extremely high risk of extinction in the wild.

The Campbell Island Teal (Anas nesiotis) is a small, flightless, nocturnal species of dabbling duck of the genus Anas endemic to the Campbell Island group of New Zealand. It is sometimes considered conspecific with the Brown Teal. The plumage is similar to that of the Auckland Teal, dark sepia with the head and back tinged with green iridescence, and a chestnut breast on the male, with the female dark brown all over. Its natural habitat is tussock grassland dominated by Poa tussock grass, ferns and megaherbs. More
The Campbell Island teal Anas nesiotis and the Auckland Island teal Anas aucklandica have been isolated in New Zealand for a long time, and subsequently became flightless and nocturnal. Before gaining full species status, Anas nesiotis was regarded as a subspecies of Anas aucklandica. They are each endemic to their respective island groups. More
The Campbell Island Teal (Anas nesiotis) is a small, flightless, nocturnal species of dabbling duck of the genus Anas that is endemic to Campbell Island group of New Zealand. It is sometimes considered conspecific with the Brown Teal (of, or belonging to, the same species). More
Once thought to be extinct, the Campbell Island teal is now believed to be one of the world's rarest ducks, after just 20 individuals were found on Dent Island in 1975 (4). One of the few remaining flightless birds in the world, this duck is a product of an island environment isolated from the rest of the world for more than 80 million years, and free from mammalian predators. More
Male Campbell Island teal on water Male Campbell Island teal on waterPrint factsheet Facts - Also known as: Campbell Island flightless teal Synonyms: Anas aucklandica nesiotis Kingdom Animalia Phylum Chordata Class Aves Order Anseriformes Family Anatidae More
Helen Gummer A drake Campbell Island Teal in breeding plumage Zoom In First teal ducklings on Campbell Island = 19-06-2006 The reintroduction of the flightless Campbell Island Teal Anas nesiotis to its sub-Antarctic home in 2004, after more than a century of exile, was carried out successfully. More
The Campbell Island teal Anas nesiotis and the Auckland Island teal A. aucklandica are thought to have been isolated in New Zealand for a long time, and consequently became flightless. The related mainland brown teal A. chlorotis which is also endemic, is a more recent arrival, about 10,000 years ago according to fossil records. It is still a strong but reluctant flier, and is more closely related to the Australian chestnut teal, which migrates but does not breed in New Zealand. More
These photos of Campbell Island teal are taken in captivity. They are so rare in the wild that they have never been photographed in their native habitat on a tiny tussock covered island in the cold subantarctic. This bird is held by only 2 institutions as part of a breeding programme to return the bird to Campbell Island next year, once the rats have gone from the island. They will not be made available to captive breeders or to waterfowl collections. More
After months of preparation, 33 Campbell Island teal, bred in captivity at the bird reserve, were placed inside custom-built transfer boxes for a journey by air, road and boat. It's the second of three planned releases of the birds to Campbell Island, which is a world heritage site, 700km southeast of the South Island. Twenty-two other Campbell Island teal also went from Whenua Hou/Codfish Island to restore the Campbell Island population, which was almost wiped out by predators. More
The Campbell Island teal were driven from the island by rats over 200 years ago, and the island once had the world's highest density of Norway rats. It was vital that the rats be eradicated before the teal could be returned to their likely former range. The rat eradication was completed, and from 2004 captive bred Campbell Island teal began to be released on the island. More
The last 10 breeding Campbell Island teal left Pukaha Mount Bruce this morning to be released onto Whenua Hou /Codfish Island in Southland. This marks the end of a 23-year-captive breeding programme at Pukaha Mount Bruce National Wildlife Centre. The recovery of this species was dependent on the captive breeding programme and the successful reintroduction of captive-bred birds into the wild. "It's a bittersweet day for a captive breeding ranger," Department of Conservation biodiversity programme manager Rosemary Vander Lee said. More
The world's rarest duck, the Campbell Island teal, is about to leave the nurturing nest of the Department of Conservation and go it alone on an island the bird is once again calling home after nearly 200 years. This month the Department of Conservation is carrying out the third and final teal release with a further 54 teal being transferred onto Campbell Island following two earlier releases in 2004 and 2005. More
* The Campbell Island teal is the rarest duck in the world. * Campbell Island teal were once thought to have inhabited the Campbell Island group. Now, birds survive on a tiny, remote "rock" in the sub Antarctic, called Dent Island. * The Campbell Island teal is a small dark brown duck. More
when, during a search for the Campbell Island Teal, there was the chance discovery of a small population on an almost inaccessible rock, Jacquemart Island. Thus there is not much information about it and it remains one of the least known birds in the world. Snipe are extinct on the mainland of New Zealand but continue to survive on several sub-Antarctic islands. More
Campbell Island Teal Hatches at Wellington Zoo Posted by ardeidae on January 12, 2005 A pair of critically endangered Campbell Island Teals (Anas nesiotis) has a new addition to their family. With less than a hundred birds in captivity, Wellington Zoo has successfully hatched a new duckling. As first-time parents, the rare breeding pair laid five eggs. One survived and has been granted permission for public viewing. More
Campbell Island Teal conservation efforts = Thursday, 13 January 2005, 9:51 am Press Release: Wellington Zoo 13 January 2005 Zoo incubators aid Campbell Island Teal conservation efforts A Campbell Island Teal duckling has been born at Wellington Zoo, aiding recovery efforts for one of the world's rarest ducks. More
Campbell Island teal had gone extinct on the main island. Twenty years ago, eleven Campbell Island teal were brought back to New Zealand for breeding as a captive population and this allowed the reintroduction of the Campbell Island teal back to their natural habitat with 50 being released on Campbell Island in 2004 and another 55 in 2005. More
Campbell Island teal raised in the captive breeding facility at Isaac Wildlife Trust's Peacock Springs will be returned home to Campbell Island this month. 55 Campbell Island teal will be returned home, sooner than expected. The transfer of 22 birds from Whenua Hou/Codfish Island and 33 from the captive breeding facilities at Isaac Wildlife Trusts Peacock Springs in Christchurch and the department More
Campbell Island teal (2nd of 3) = Campbell Island teal Campbell Island teal (2nd of 3) These Campbell Island teal – a male (front left) and two females – are on Codfish Island (near Stewart Island). The species was thought to be extinct until a group were discovered on Dent Island, near Campbell Island – which was rat-free, but precipitous. Some were transferred to Codfish Island to establish a back-up population. More
Releasing Campbell Island teal (3rd of 3) = Releasing Campbell Island teal Releasing Campbell Island teal (3rd of 3) These boxes contain Campbell Island teal which are about to be released on Campbell Island – returning a species that disappeared there after rats invaded from visiting ships nearly 200 years earlier. From a tiny population discovered on nearby Dent Island, teal were bred in captivity on the mainland and on Codfish Island. More
What do pigs, Kakapo, Takahe and Campbell Island Teal have in common? Study of Field Efficacy of PCV2 vaccine in New Zealand Suvaxyn PCV2 One Dose Field Efficacy Preventative Medicine: first to your aid? What do pigs, Kakapo, Takahe and Campbell Island Teal have in common? Who would think pigs and three of New Zealand's endangered avian species have anything whatsoever in common? But it so happens in New Zealand we use the same erysipelas vaccine for pigs, Fort Dodge Animal More
Campbell Island Teal Captive Program + Chevron SkinkCaptive Program + Great Spotted Kiwi Captive Program + KeaCaptive Program + Little Spotted Kiwi Captive Program + NZ FalconCaptive Program + NZ Shore PloverCaptive Program + NZ Wood PigeonCaptive Program + North Island Kaka Captive Program + North Island KokakoCaptive Program + North Island Saddleback Captive Program + North Island Weka Captive Program + Northern Brown Kiwi Captive Program + Organge-fronted Parakeet Captive Program + Robust SkinkCaptive Program + Stitch BirdCaptive Program + TakaheCaptive Program More