Wood Duck
The adult male has distinctive multi-colored iridescent plumage and red eyes. The female, less colorful, has a white eye-ring and a whitish throat. Both adults have crested heads. When swimming, Wood Ducks bob their head back and forth in a jerking motion, which makes them easy to spot.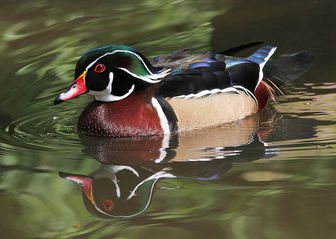 Picture of the Wood Duck has been licensed under a Creative Commons
Attribution
.
Original source
: originally posted to Flickr as 2008-04-20-14h26m41.IMG_5858e
Author
: Arjan HaverkampPermission(Reusing this file)This image, which was originally posted to Flickr.com, was uploaded to Commons using Flickr upload bot on 22:32, 8 February 2010 (UTC) by Snowmanradio (talk). On that date it was licensed under the license below.This file is licensed under the Creative Commons Attribution 2.0 Generic license.You are free:to share – to copy, distribute and transmit the work
The Wood Duck is classified as Least Concern. Does not qualify for a more at risk category. Widespread and abundant taxa are included in this category.

The Wood Duck or Carolina Duck (Aix sponsa) is a medium-sized perching duck. A typical adult is about 48 cm (19 in) in length with an average wingspan of 73 cm (29 in). This is about three-quarters of the length of an adult Mallard. It shares its genus with the Asian Mandarin Duck. The adult male has distinctive multi-colored iridescent plumage and red eyes. The female, less colorful, has a white eye-ring and a whitish throat. Both adults have crested heads. More
A colorful duck of wooded swamps and streamsides, the Wood Duck is one of only a few North American ducks that nest in trees. Many people consider it to be the most beautiful of all waterfowl. More
Drake wood duck (Aix sponsa) (credit: Grant Heilman)North American duck (Aix sponsa, family Anatidae); a popular game bird. Wood ducks, 17 – 21 in. (43 – 52 cm) long, nest in a tree cavity up to 50 ft (15 m) off the ground; they have long-clawed toes for perching. Both sexes have a head crest in winter. The beautifully coloured male has a purple and green head, red-brown breast flecked with white, and bronze sides; the female has a white eye ring and duller colouring. More
Description: Male wood ducks have a crested head that is iridescent green and purple with a white stripe leading from the eye to the end of the crest, and another narrower white stripe from the base of the bill to the tip of the crest. The throat is white and the chest is burgundy with white flecks, gradually grading into a white belly. The bill is brightly patterned black, white and red. The legs and feet are a dull straw yellow and the iris is red. More
The Wood Duck is considered one of the most beautiful ducks in North America, and rightly so. Reverence for their appearance goes all the way back to prehistoric Indians who regularly featured them on bowls and pipes. Identification: Few sights are more spectacular then a Wood Duck drake in full breeding plumage perched on a log and the females put other plain mottled hens to shame. Both sexes have a crested head. More
Wood Duck The wood duck is considered by many bird watchers to be North America's most colorful waterfowl species. Its scientific name, Aix sponsa, translates into "waterbird in bridal dress." Today the wood duck is one of the most common waterfowl species breeding in the United States. However, this was not always the case. Writings from the early 19th century indicate that wood ducks were in abundant supply and very popular for their tasty meat and bright decorative feathers. More
Your Website for Wood Duck Information - Home Best Practices Wood Duck Box Design The Dump Nest Previous Articles FAQ re: Wood Ducks Photo Gallery Membership YOUR Questions Society History Mission Statement Wood Duck Society-Twin Cities, Minnesota The mission of the Wood Duck Society is to educate and promote sound management of wood duck populations and associated More
The Wood Duck is between 43-51 centimeters in length, with a wingspan of 70-73centimeters. The male Wood Duck is beautifully colored. The crown and crest is an iridescent green with blue and purple makings. Two white-lined markings extend up from the neck to the face. His throat is white. The bill, which is patterned in black, white, and red, slopes downward. The belly is white, eyes are red, legs and feet are a dark yellow and his tail is uniquely squared. More
Without question, the wood duck (Aix sponsa) is one of the most colorful of all North American waterfowl. It has a striking mixture of iridescent blues, greens, and purples contrasted by white stripes and patches (Figure 1). Its coloration has made it the most sought-after duck by hunters and birdwatchers. It is known in Florida as the "summer duck" and the "acorn duck." By the early 1900s, this highly desirable species was near extinction because of improper hunting regulations and habitat loss. More
WOOD DUCK DECOY BY NOXON FAMILY CARVERS WOOD DUCK DECOY BY NOXON FAMILY CARVERS 1 $39.00 9h 38m NEW FULL SIZE DECORATIVE WOOD DUCK DECOY NEW FULL SIZE DECORATIVE WOOD DUCK DECOY - $29. More
The Wood Duck is considered by many naturalists and hunters to be the most beautiful duck in North America, if not the world. More
Wood Duck, Allan Brooks, Educational Bird Leaflets, National Association of Audubon Societies, 1913 Allan Brooks Order: Anseriformes Family: Anatidae Genus: Aix Species: sponsa La. anser goose La. forma form, shape, kind Gr. anous foolish La. anas duck Gr. aix water bird La. sponsa bride A beautiful, elegant bird. Iridescent green and purple head and crest. More
Wood Duck Wood Ducks are considered one of the most beautiful species of waterfowl in North America. By the early 20th century hunters had almost wiped out this bird. Due to protective laws the wood duck is now making a healthy comeback. Wood Duck Nest Cam Provided by Charles Branch - Auburn, AL - The Wood Duck Cam Is On During Evening and Night Hours Due To Light. Daylight Hours it Will Show Other Scenes. More
The survival and recovery of wood duck populations in North America are renowned wildlife success stories. By the late 1800s to early 1900s, extinction of the wood duck seemed imminent. Sentiments like, "Becoming scarce, likely to be exterminated," and "Almost exterminated, only few breed" reverberated among ornithologists in eastern portions of the continent. Destruction of bottomland hardwood forests—the bird's primary breeding and wintering habitat—and market hunting were the two major factors that contributed to the species' decline. More
The male Wood Duck is exquisitely colored. He is most easily identified by his smooth, iridescent green crest and crown and his purple face. His throat is white, and two white markings extend up onto the neck and face. His bill slopes downward, and the end of his tail is square.The female is less colorful. She is mainly brown, with a slight iridescence on the crown. Her crest is shorter. She is most easily identified by a distinctive teardrop-shaped, white eye patch. More
The Wood Duck is a distinctively North American species. Its only close relative is the Mandarin Duck of eastern Asia. Evidently the Wood Duck originated in North America, as fossil remains have been found only in widely scattered locations in the eastern part of the continent. Distribution In Canada, the Wood Duck nests in scattered locations in the southern parts of all provinces; however, there is only one breeding record for Newfoundland. More
Wood Duck Farm rests on the southern boundary of the Sam Houston National Forest, which is about 48 miles due north of Houston. ( Approximately 40 mins. from the Woodlands and 30 mins. from Kingwood.) Our small family farm grows market ready produce fit for some of the finest "white tablecloth" restaurants in Houston, Austin and Dallas. Given the mild winters of southeast Texas, we are fortunate that we are always growing some variety of vegetable or herb. More
les images similaires wood duck pictures photos of ...1600 x 1200 · 235 kB · jpegthundafunda.comhttp://thundafunda.com/33/animals-pictures-nature/wood-duck-pictures.jpgAfficher les images similaires wood duck 3 male wood duck ...800 x 620 · 104 kB · jpegsdakotabirds.comhttp://sdakotabirds.com/species_photos/photos/wood_duck_3.jpgAfficher les images similaires American Wood Duck ( Aix ...1008 x 669 · 655 kB · jpegibc.lynxeds.comhttp://ibc.lynxeds.com/files/pictures/Wood%20Duck.jpgAfficher les images similaires ... wood duck american wood duck900 x 675 · 240 kB · jpegwww.myfourthirds.comhttp://www.myfourthirds.com/files/0407/American_Wood_Duck_P5084668.jpgAfficher les images similaires Wood Duck623 x 640 · 226 kB · jpegwww.lloydspitalnikphotos.comhttp://www.lloydspitalnikphotos.com/d/187-3/wood_duck_MG_4116-2. More
woodland and wetland habitat had caused the wood duck population to decline to alarmingly low levels. By the beginning of the 20th century, wood ducks had virtually disappeared from much of their former range. In response to the Migratory Bird Treaty established in 1916 and enactment of the Federal Migratory Bird Treaty Act in 1918, wood duck populations began to slowly recover. By ending unregulated hunting and taking measures to protect remaining habitat, wood duck populations began to rebound in the 1920's. More
The Original Wood Duck Shack is proudly made in the USA by Grand Quay Outdoors. The company is headquartered in Minnesota, in the heart of the Mississippi Flyway. Grand Quay Outdoors' mission is to provide quality products, at a reasonable price, that enhance wildlife habitat and insure the enjoyment of nature for generations to come. More
Wood Duck Nest Box Information How To Build A Nest Box An Introduction to the Wood Duck Wood ducks (Aix sponsa) are perhaps the most beautiful duck in North America. Florida is home to both year-round (resident) and migratory wood ducks (those that breed farther north and spend only the fall and winter months here). Wood ducks are admired by people throughout Florida, in fact, they are the most abundant resident wild ducks in the state. More
Wood Duck Habitat Model go to: USFWS Gulf of Maine Watershed Habitat Analysis go to: Species Table Feedback: We welcome your suggestions on improving this model! Draft Date: July 2001 Species: Wood duck, Aix sponsa Use of Study Area Resources: Reproduction occurs throughout the study area (Adamus 1984, Breeding Bird Survey information); wintering is limited to southern Massachusetts and south through the Gulf Coast (Christmas Bird Count More
wood duckWood Duck & Mandarin Duck = Two of the most colorful and exquisite of the waterfowl amandarin duckre the North American Wood Duck and the Mandarin Duck of east Asia and Japan. Both whe Wood Duck and mandarin are easy to care for and breed and have been commonly bred on game farms and in zoos for decades. More
The Wood Duck is commonly found throughout the eastern half of the US and in the Northwest. One of our most colorful waterfowl, the Wood Duck, has been a victim of loss of habitat, causing serious nesting problems. The cutting of forests and drainage of swamps, as well as hunting, left Wood Duck populations at a seriously low level early in this century. More
The Wood duck is in the same genus or spieces class as the Mandarin duck. Like his male counterpart, the Wood duck drake is known for its colorful plummage during breeding season. The head is colored with a deep irridescent green and purple as is the long crest down the back of the head. Bright white patch in the throat area with two streaks of white extending into the face and wood duck drake 1cheek area. More
Wood ducks are highly secretive in selecting nest sites to minimize impacts of nest predators and competition from other wood ducks. Therefore, it is important to locate individual nest boxes in relatively secluded areas within timber stands where natural cavities would occur naturally. Nest boxes can be placed either on land or over the water. More
The wood duck is a common species of waterfowl that breeds in North America. These ducks exist as far north as Nova Scotia in the summertime to the Gulf of Mexico in the winter. They inhabit wooded areas along lakes and other wetlands and eat a variety of foods depending on the stage of life they are in. More
spot in the northern part of the wood duck's range early in the season, they worked fine. Unfortunately, in direct sunlight - even in Minnesota on a typically warm June day, they became way to hot for both the eggs and the hen. In the South, it was even worse. About ten years ago, I did a controlled temperature study, using temperature probes in ten different types of boxes (several more the second year.) the Tom Tubbs and a sheet metal box tied for the worst resistance to heat. More